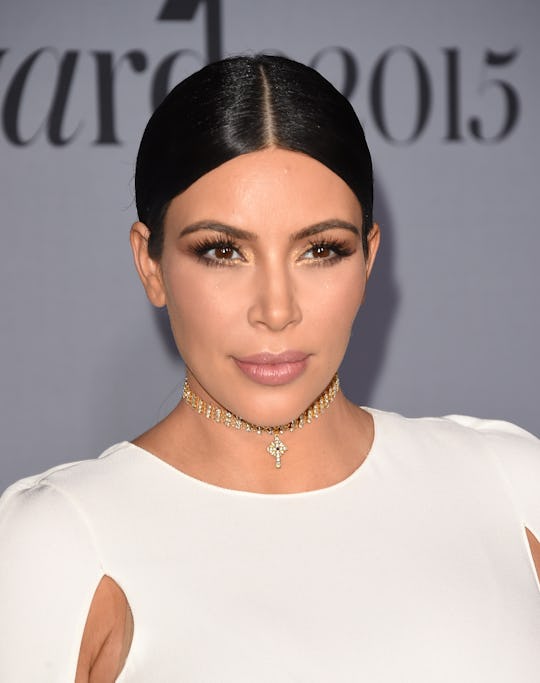 Jason Merritt/Getty Images Entertainment
How To Get The New Kimoji, Which Are NSFW & Totally Amazing
First, she broke the internet; now, Kim Kardashian has broken the iTunes App Store. Her line of Kimoji, which was first released last year, was updated this week. The update gave it a serious boost, making it the top downloaded app in the store. With the update, there's now more booties, more cartoony cleavage, and even little Kardashian pole-dancing. Anyone looking to take their emoji vocabulary to the new level needs to check them out. Here's how to get the new Kimoji, because people need a fur-coated Kardashian dropping it low for their everyday conversations.
Fans (or non fans) of the Kardashians can download the Kimoji collection through the App Store for a mere $1.99. Worth it? Oh, definitely. Though the app originally launched more than a month ago, causing some excitement, this new revamp is what it should have been all along. The new and improved selection is full of hundreds of new emojis, it's Android compatible, and, now, there are even Kimogifs. Yes, you read that right. A Kimogif is something you didn't even know you needed, but will soon become an essential piece of your texting repertoire. The collection of buxom animations are versatile: they depict Kardashian in different colored leotards, twerking, on a stripper pole, dancing in a furry pimp coat, making it rain, and smacking her sister across the face with a purse. Many of them (that purse-slapping one included) were taken directly from memorable, sweet, family moments in Keeping Up With The Kardashians.
Devoted husband and hype-man Kanye West took to Twitter to announce the updated Kimoji app. He also took the opportunity to tell his 18.3 million followers that it had reached the number one spot at the app store. Gracious as he is, he even thanked Tyler, the Creator for making the beat used in the Kimoji promo video.
USA Today conducted some hard-hitting research after the release and compiled an essential list of the most important Kimojis from the collection. They are versatile, infinitely useful, and most definitely NSFW. To summarize:
Black Jesus (finally)
Kim Kardashian in the Shower
A Kimogif of Kim Kardashian Dabbing (may be useful come Super Bowl Sunday)
A Smoking Blunt
Kim Kardashian in Less-than-Smooth Contour Makeup
The "Making It Rain" Kimogif
A Firefighter (this one is an enigma)
Birth Control Pills
If you're interested in seeing these, please just download the app and spare yourself any more wasted time.
Of course, not everyone is so happy about the new release or even the existence of these new emojis. With every great contribution, expect a backlash.
What's nice about the new Kimojis is that some of them go hard:
While others capture those quieter, simpler moments of joy:
So, head over to the app store and raise your glass to toast this new era — because actions (and Kimojis) often speak louder than words.