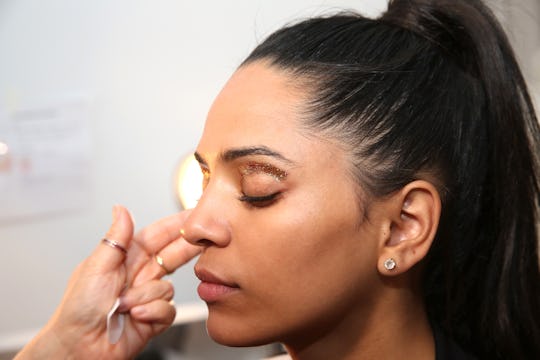 Aaron Davidson/Getty Images Entertainment/Getty Images
The Perfect Strobe Is 7 Steps Away
Over the last two years, strobing has become a staple technique in the beauty industry. Although it's an intimidating technique, it's one that many beauty novices are trying to master. And, for a select few, they are trying achieve the highlighted look in in a limited amount of time. That's why knowing how to get the perfect strobe in 15 minutes or less is necessary information.
Though I love how I look after doing my makeup, taking a long time to accomplish any look is just not on my agenda. I'm a natural procrastinator, so most of the time I'm rushing to get ready for an event. Can I change that? Sure. But will I? Meh, probably not.
The reason why I like strobing instead of contouring is because it takes less time to accomplish and it gives me an incredible glow once I'm done. On top of that, I don't have to use that much makeup — which works really well for me and will probably make you love it, too.
Not sure if strobing is for you? Try out these seven hacks to help you get your face done in 15 minutes and then make the decision.