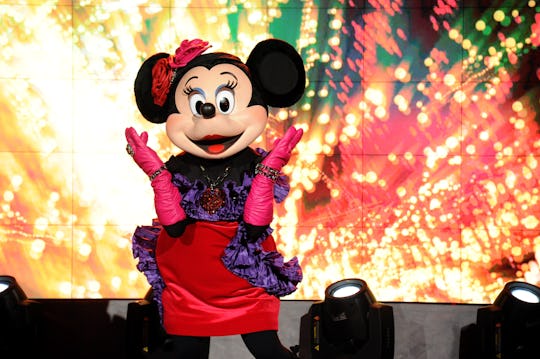 Jamie McCarthy/Getty Images Entertainment/Getty Images
How To Get The Rose Gold Minnie Ears, Because You Know You Want Them
Last week, Disney finally made everyone's millennial pink dreams come true by releasing rose gold, sequined Minnie Mouse ears. Obviously, you need to know how to get the rose gold Minnie ears as soon as humanly possible for your kid's next birthday party, or simply to get your child to stop crying after they peep the neighbors' kids pair at the park when they get back from their magical Disney vacation. (Or for you to shamelessly wear around the house because you're a grownup and can do what you want.)
There is some bad news about getting a pair, though. The headbands are on sale at both Disneyland and Walt Disney World theme parks for $25, but right now, that's the only place you can get them.
Cue the sighs and flight alerts for cheap Disney vacations. People have obviously been losing their minds over the pretty pink ears since the release, which means there is a thriving black market for them if you dare to browse it. On eBay, people are selling allegedly authentic rose gold Minnie ears that they snagged at the park for upwards of $150. The questions is: How desperate are you and your children to get a pair as soon as possible?
Since demand is so high for the Minnie ears headbands, it's possible that Disney will keep them as an exclusive park souvenir. Then again, it's hard to imagine a company like Disney not trying to do whatever it could to please customers. Disney's the most magical place in the world, right? Cross your fingers that the ears show up in the Disney Store website at least before the holidays. Right? Right?!
If you need a pair of pink ears ASAP and haven't been able to book a trip to the theme parks before school starts, there are some comparable options your little human might like. Such as a pair of Minnie ears in the classic black and red polka dotted bow color scheme but sequined? Or a pair of satin-y pink ears that would likely fool any unsuspecting human under 6 years old. (Do not try this with just any Minnie-lover.)
If the head band doesn't have to be authentic for your family to love their Minnie ears, some crafty Etsy sellers have rose gold, pink, and even camo colored ear headbands for sale. And hey, you'd be supporting a local artist!
Alas, if you're looking for the real deal, rose gold Minnie ears, you're going to have to go to one of the parks yourself or bribe a neighbor or family member to bring a souvenir back, which frankly, could be the easiest, cheapest option at this point.
For the sake of all Disney and Minnie Mouse-lovers, let's hope that the Disney store starts shipping the rose gold Minnie Ears soon. The FOMO is too much to handle.