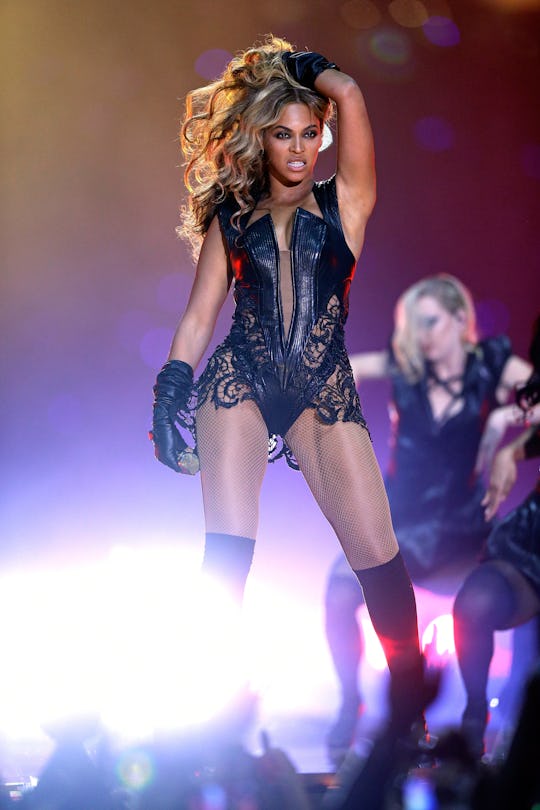 Ezra Shaw/Getty Images Entertainment
How To Get Tickets For Beyonce's 'Formation' World Tour
Beyoncé performed alongside Coldplay at the Super Bowl 50 Halftime Show on Sunday night, and she used the performance to announce her next world tour. As if getting the "Formation" song and video on Saturday weren't enough of a beautiful surprise, the announcement about an upcoming world tour sent fans in to a frenzy. Here's how to get tickets for Beyoncé's Formation World Tour, because they're clearly necessary for life.
The Formation World Tour will begin in Miami on April 27, according to Us Weekly. Pre-sale tickets for American Express cardholders go on sale as early as Tuesday, Feb. 9, according to Complex. Regular-sale tickets will go on sale on Ticketmaster starting Tuesday, Feb. 16. Fans better get ready for the date, because tickets are sure to sell out fast in all the hype. Beyoncé will reportedly use the tour to support her sixth studio album. "Formation" was the first single from the album, and it sent people into a frenzy when the Queen (who is famous for surprises) released in unexpectedly on Saturday.
The Formation World Tour will stop in 40 cities that are evenly split throughout North America and the U.K. and Europe, according to Billboard. Though ticket prices haven't officially been released, Billboard estimated that, depending on market rates, higher-priced tickets could be as much as $250 to $300, while the cheapest tickets could go as low as $65.
Sure, $65 might not exactly break the bank for everyone, but getting those $65 tickets probably won't be easy. Queen Bey's last tour with husband Jay Z sold out in many cities across the U.S. and grossed more than $100 million, according to Billboard.
Fans were a mixture of happy and nervous. Twitter reactions hilariously captured how people wanted to see Beyoncé perform, but many said that they probably wouldn't be able to afford tickets. The struggle was real for many fans.
But, still, many of them were more than ready to throw Beyoncé their money.
Fans are caught between excitement and sadness, because a new Beyoncé tour will mean eating Ramen and sticking to Netflix binge sessions as a cheap weekend activity. I know I'm not just speaking for myself. Thank you, Beyoncé, but also, damn you for being so great.