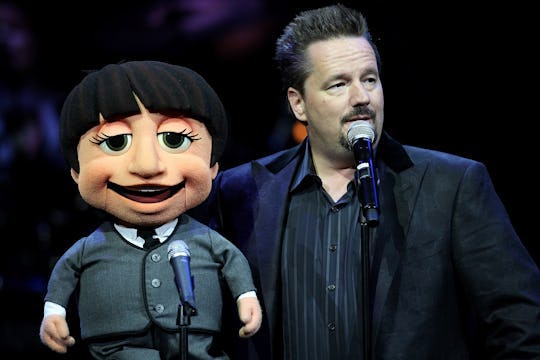 Isaac Brekken/Getty Images
How To Get Tickets For Terry Fator's Show, Because After This Week's 'Bachelor', You're Going To Want To Go
Monday's episode of The Bachelor takes the cake for being the most bizarre yet, and it also left many viewers wondering how to get tickets for Terry Fator's show. Fator, the 50-year-old ventriloquist who won season two of America's Got Talent, was featured on Monday's Bachelor when the group took to Las Vegas, and the 12 remaining contestants performed as the opening act for Fator's show at The Mirage hotel and casino.
As one might imagine, things didn't go smoothly when 12 amateurs took the stage in Vegas, all with the single goal of winning bachelor Ben Higgins' heart (as opposed to, say, entertaining Fator's audience). The 12 women were asked to perform their best talent, which, as might be expected, varied widely from woman to woman. There was an Irish jig and some juggling, too, but the night will probably be remembered for contestant Olivia Caridi's awkward showgirl dance.
That's right, the 23-year-old news anchor decided the best time to demonstrate uncomfortable showgirl skills would be in the city with the best showgirls on earth. According to Us Weekly, Olivia emerged from a cake wearing a showgirl outfit and proceeded to dance — though 'dance' is a loose descriptor here.
Bachelor hilarity isn't featured in all of Fator's shows, of course, but if you're interested in checking out the acclaimed ventriloquist's act for yourself, tickets are available at terryfator.com, plus other group and discount ticket outlets. Over on his website, Fator explains that each show includes "singing, comedy and amazing celebrity impressions of musical superstars such as Garth Brooks, Dean Martin, Aretha Franklin, Lady Gaga and more." Fator performs every evening, Monday through Thursday, so there are ample dates available. According to the Las Vegas Sun, Fator has performed nearly 1,500 shows at the Mirage.
Fator took his role on Monday's The Bachelor quite seriously. About his appearance in the episode, Fator told the Sun:
I was no longer a bachelor myself when we filmed, having had our surprise first wedding at Lake Las Vegas, so I was able to pass on my best married man advice to Ben before he proposes. I told him to always demand the last two words in any argument: 'Yes, dear.'
With many weeks to go before the March 14 season finale, we'll see whether Higgins takes Fator's advice to heart.
Images: Isaac Brekken/Getty Images