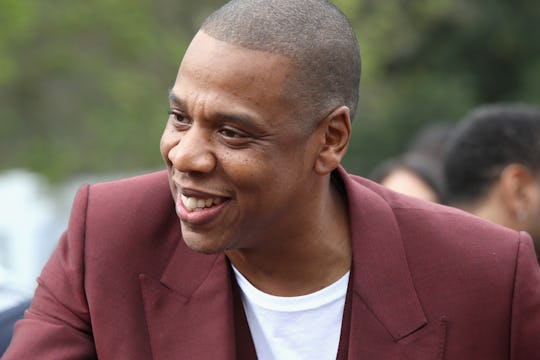 Ari Perilstein/Getty Images Entertainment/Getty Images
Get Tickets To JAY-Z's '4:44' Tour Even If It Sells Out
If you're a JAY-Z fan, you've likely been listening to his new album 4:44 on repeat since it dropped, while dreaming about watching him actually perform it live on tour. But millions of other people are just as obsessed as you are, and there's a high probability that they (or some ticket bots! Damn you, bots!) will get to all the tickets first. What's a JAY-Z fan to do? There are a few ways to get tickets to JAY-Z's 4:44 tour, or at least to get a JAY-Z experience, even if the tour is sold out.
JAY-Z recently announced the tour dates for his well-received 13th album, which responds to the cheating allegations in his wife Beyoncé's recent Lemonade, features an adorable guest rap from his young daughter Blue Ivy, and generally reaffirms him as one of the kings of hip-hop. He'll be headed on the road for nearly two months starting in October, visiting 31 cities across the United States.
Pre-sale tickets are currently on sale for Tidal subscribers, so you could sign up for JAY-Z's music streaming service, and try to nab some early tickets. Otherwise, be ready and waiting on the Live Nation website when tickets officially drop on July 14. Do what you've got to do to prepare. Find a computer with a lightning-fast connection, memorize your credit card number, and do some speed-typing reps in anticipation. Maybe, just maybe, you'll be fast enough to grab one of the coveted tickets before they go.
If all that fails, it may be time to turn to a ticket resale site like StubHub or SeatGeek, which already has some JAY-Z ticket options. The prices will be marked up from the regular concert tickets, but if you're a big enough JAY-Z fan, the investment might be worth it.
You could also try to get tickets to a festival where JAY-Z will be performing, because he'll surely perform some 4:44 songs there. He's scheduled to show up at the Meadows Festival in NYC in September, and it looks like tickets for that are still available. He'll also be stopping by the Austin City Limits Festival, and the Made in America Fest in Philadelphia, so if you're anywhere near those locations, that could be a good substitution for the tour.
And if you're not that close? Maybe it's time to just take that fun road trip you've been talking about forever. Trust me — you're not going to want to miss this one.