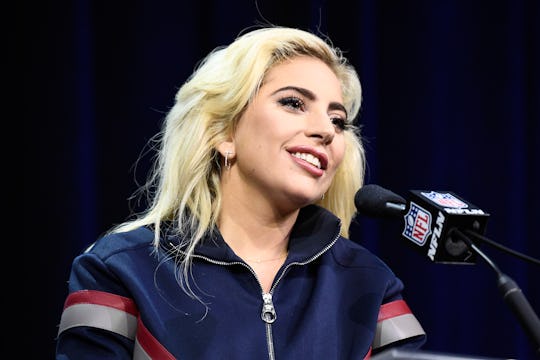 Frazer Harrison/Getty Images Entertainment/Getty Images
Lady Gaga Will Announce Her World Tour On Monday
Lady Gaga's performance during halftime at the Super Bowl is going to be incredible. Gaga, who is known for her theatrics, knows how to put on a show — its the reason why she sold out stadiums during her previous tours. And Gaga's performance will definitely leave fans wanting more. So instead of watching the performance on Youtube over and over again, why not see her in person instead? Soon, people will be wondering how to get tickets to Lady Gaga's tour — but they might have to wait just a little bit longer for more details.
Following the success of Lady Gaga's album Joanne, this past fall, fans were dying to see Gaga perform the songs from the album — like "A-YO" — live. And now they will finally get that opportunity. According to Us Weekly, Gaga will reportedly be announcing her world tour for Joanne this upcoming Monday, just one day after her Super Bowl performance. With the announcement will come the tour dates — and finally the opportunity to see Lady Gaga's bright pink cowboy hat on stage. Fans will have a lot to look forward to for the Joanne tour, according to Us Weekly, suggesting that the new tour will be just as extravagant as her previous ones. But they will probably want to grab tickets fast, especially since so many people missed her Dive Bar Tour this past fall. So how can you score those tickets to this sure to be entertaining tour? Unfortunately, those details are not available yet — but keep your ear to the ground.
Because it is not being announced until Monday, the details about the tour are relatively quiet — sad, I know. But you can do one thing to ensure you'll hear about how to score tickets to Lady Gaga's upcoming tour first — by first, following Lady Gaga's Facebook page, where announcements will more than likely be made on Monday. Those wanting to be first in line for tickets to Gaga's new tour can sign up for Lady Gaga notifications from Song Kick — a website that tells you about concerts closest to your location and sign up for alerts from Ticketmaster — which will email fans of Lady Gaga before tickets even go on sale. If that isn't enough, you can also subscribe to Lady Gaga's official mailing list. This way, you'll ensure that you won't miss the official tour announcement and therefore miss instructions on how to score tickets to what will surely be the hottest tour of the year.
This doesn't guarantee that you will get tickets — but you will definitely know about the tour and the ticket sale as soon as possible. This way, you won't be stuck inside watching reruns Lady Gaga's Super Bowl performance on YouTube while your friends are dancing to Gaga's performance of "Bad Romance" in person.