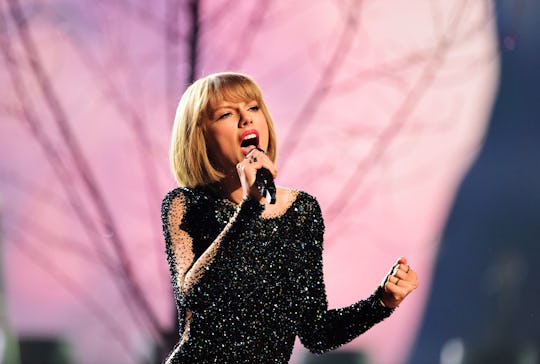 ROBYN BECK/AFP/Getty Images
How To Score Tickets To Taylor Swift's First 'Reputation' Live Performances This Year
When Taylor Swift emerged from her social media recluse in August, fans everywhere were shook. And when Swift dropped the first single off her new album, Reputation, in August, and then another single a week later, the internet just knew something big was about to happen. And truly, as "Look What You Made Me Do" and "...Ready For It?" showed, Swift knows how to make some jams. And so, with the announcement that the reclusive star will be performing this year, how can you get tickets to Swift's first Reputation live performances? Well, she's only performing in two cities this year, so it might be a little difficult if you're not in Chicago or San Jose.
According to reports, Swift will only perform twice this year, both at holiday radio concerts. On Dec. 2, she'll perform at the 99.7 Now Poptopia show in San Jose, California, along with several other performers. Then, on Dec. 7, she'll play at the B96 Chicago Jingle Bash with another array of musicians. Swift will headline both shows, and they are likely to be the only concerts for the remainder of 2017, as she'll likely start her Reputation world tour in 2018, as the album will be released on Nov. 10 of this year.
But, if you are planning to be in San Jose or Chicago in December, you just might be able to get tickets for a relatively low price.
According to the 99.7 Now website, tickets for Poptopia 2017 will be available starting Oct. 14 via Ticketmaster, and that's not even the best part. Yeah, you could see Swift in concert for the low, low price of $37.50 (plus those pesky taxes and fees, of course). And not only will concertgoers be able to see Swift perform, but Ed Sheeran, Niall Horan, Fifth Harmony, Logic, Dua Lipa, and The Chainsmokers will also be performing, according to the radio station.
But that's not your only chance to catch Swift perform live this year. Because a few short days later, she'll take the stage at the Jingle Bash in Chicago, and tickets for that show are already on sale through Ticketmaster, although they're slightly more expensive than the San Jose show. To see Swift in Chicago, you'll have to pay at least $90 per ticket, and that's if they don't sell out before you decide to purchase them. At the time of publication, there were plenty of tickets still available.
Of course, if you are lucky enough to be able to purchase tickets to see Swift in Chicago, you'll be in for a pretty fantastic show. Other artists slated to perform include The Backstreet Boys, Khalid, Sabrina Carpenter, and more.
Being able to attend one of those concerts would be seriously amazing, considering that the entirety of Swift's new album will have been released by then, and she might perform some songs that aren't even out yet come December. Aside from Swift's segment, both shows have a long list of talented performers that would also make each a must-see experience.
However, if you can't make it to either one of those shows, don't fret. Swift hasn't even announced the dates for her Reputation world tour, and odds are, there will be a show closer to your city in 2018. What's more, Swift has partnered with Ticketmaster to ensure that fans will have first access to tour tickets when they're announced, and that bots and scalpers won't be able to hoard large amounts of tickets. So, if you're set on seeing Swift perform, check out her new verified fan feature. Or just go for it and see her in December.
Obviously, Reputation is a highly-anticipated album, and Swift is a 10-time Grammy winner. So you can't really go wrong with a Taylor Swift concert. Because who knows? By then, maybe you'll really be ...ready for it.
Watch Romper's new video series, Romper's Doula Diaries:
Check out the entire Romper's Doula Diaries series and other videos on Facebook and the Bustle app across Apple TV, Roku, and Amazon Fire TV.