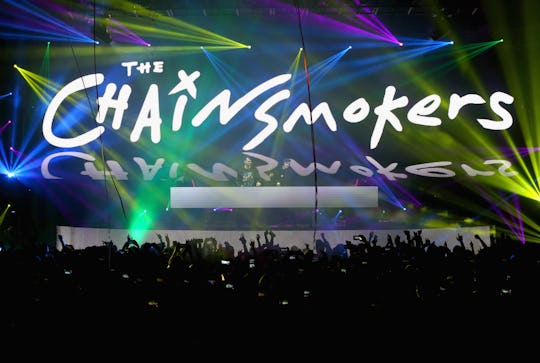 Joe Scarnici/Getty Images Entertainment/Getty Images
How To Get Tickets To The Chainsmokers' Tour
First time Grammy nominees The Chainsmokers have plenty of new, game-changing projects coming out this year. In addition to the potential awards they might glean on Sunday night, artists Alex Pall and Drew Taggart have a 40-city North American tour coming up, too. Here's how to get tickets to The Chainsmokers tour because you won't want to miss seeing them ASAP. If anything, these guys are only getting bigger.
Spanning not just the U.S. but Europe and South America as well, The Chainsmokers have a pretty busy tour schedule in the works, going nonstop around the world until the end of June. Pre-sale tickets were up on Citi Private Pass as early as Jan. 30, but Chainsmokers tickets on Ticketmaster still have plenty of seats available, varying, of course, by the dates and locations of your preferred arena. If you're somehow too late for Ticketmaster, Stubhub concert tickets are also always an option.
Called the Memories: Do Not Open Tour, the guys will be traveling with Kiiara and Emily Warren in tow. On top of the tour, fans have even more to expect; The Chainsmokers' very first, full-length studio album has been announced, though details of its title or anticipated release date have yet to be heard. Actually, the news came out inadvertently; Chris Martin of Coldplay accidentally broke the news in a tweet, saying: "excited for @thechainsmokers' album; I've heard some songs and I love them." Oops.
Admittedly, there's a huge advantage to catching Pall and Taggart on tour, aside from seeing their electrifying act live. Billboard reported that "every ticket purchased online for the tour includes a copy of The Chainsmokers' forthcoming debut album" — a total steal for super fans, making any ticket totally worth it.
The EDM duo's newest single "Paris" was released on Jan. 13, giving a little hint as to how the rest of the album will likely shape up. It's an upbeat song about running away from everything and everyone to be with the one you love — a topic that isn't totally new for The Chainsmokers. "Closer," featuring Halsey, carried plenty of the same undertones while still managing to keep things light, fun, and totally party-ready.
The 2017 Grammys marked The Chainsmokers' biggest break thus far, with a nomination for best new artist while still pitting them against veterans like Rihanna, Drake, and Sia. Certainly, they've come a long way since their #Selfie days, and now have the upcoming arena tour to prove it.