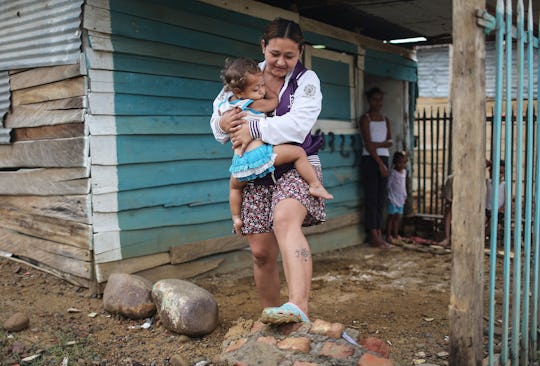 Mario Tama/Getty Images News/Getty Images
How To Help A Family In Venezuela, Where Children Are Going Hungry
For the past five years, Venezuela has been in a constant state of crisis. The country's economy is falling apart, food is scarce, and political strife is at an all-time high. It's a very difficult time in Venezuela for families, to say the least, and people are especially concerned about young children living in the country. So, how can you help a family in Venezuela? From supporting a child in the country to donating supplies, there are many ways for you to a lend a hand.
It's hard to encapsulate a country's collapse in a few paragraphs, but essentially what happened in Venezuela is this: When Hugo Chavez, a former military official and socialist was elected president in 1999, things took a turn for the worse. Chavez nationalized countless industries in the country, a move that drove away foreign and domestic investors, according to ABC News, and he made Venezuela dependent on selling its vast oil supplies abroad. In a short period of time, Venezuela's strong economy (lots of oil, remember?) fell apart. This led to mass food shortages and inflation, and many experts argue that Chavez's mismanagement of government funds and resources was to blame. Others, however, believe Chavez was a hero for the poor.
Unfortunately, when Chavez died in 2013, Venezuela's situation didn't improve. The country's current president, Nicolás Maduro, is struggling to fix its many economic problems, and many citizens remain dedicated to Chavez, an allegiance known as Chavism, according to Digital Journal. The split between Maduro and Chavez has led to rioting and ongoing political issues in the country.
As of 2017, four out of five households in Venezuela are living in poverty, according to The Guardian, and the situation has become so dire that some struggling families are giving away their children. Many parents can't afford to feed their kids, and they give them away in hopes that they'll have a better quality of life.
Zulay Pulgar, a woman who gave her 6-year-old daughter to a neighbor, said of her heartbreaking decision, according to The Independent:
This is written in the bible. We're living in the end of times. It's better that she has another family than go into prostitution, drugs, or die of hunger.
If the situation in Venezuela is breaking your heart, here are some places that need donations.
SOS Children's Villages
A great way to sponsor a child in Venezuela is through SOS Children's Villages. For $36 Canadian dollars, which translates to about $28 U.S. dollars, you can provide a Venezuelan kid in need with "a safe and nurturing home, a loving SOS mother, quality education, healthcare, nutritious food, and clothing and toys," according to the organization's website. This seems like the best option if you're interested in developing an ongoing relationship with a particular child.
You can sponsor a child here.
SOS Children's Villages Venezuela
If you rather donate to an entire family, give your money to SOS Children's Villages Venezuela. This specific branch of SOS Children's Villages works directly with communities and families to "empower them to protect and care for their children," and the org also provides support for young adults.
The charity aims to provide "day care for young children, training for parents to set up small businesses, and "workshops on child protection and health care," for example.
You can donate to the org here.
Cuatro Por Venezuela
Cuatro por Venezuela was started in 2014 by four Venezuelan women living in the United States, according to organization's Facebook page.The group works directly with Venezuelan organizations that specialize "in the areas of health, nutrition and education," according to the org's website.
What's great about Cuatro por Venezuela is that it categorizes its donations. So, if you feel particularly concerned about health issues, you can donate money that will buy much needed medical supplies, for instance.
You can donate to the "Food Program," the "Health Program," "Schools with Smiles," and you can also help with the costs of shipping supplies to the country.
Comparte Por Una Vida
Comparte Por Una Vida focuses on "infant feeding in hospitals, homes, homes and schools that are in vulnerable areas," and it aims to "alleviate the malnutrition and malnutrition of many children in Venezuela," according to the organization's website.
The org has a lot of different ways for you donate, too. You can either give money via GoFundMe, Amazon, or through Chase bank.
Check out Romper's new video series, Romper's Doula Diaries:
Watch full episodes of Romper's Doula Diaries on Facebook Watch.