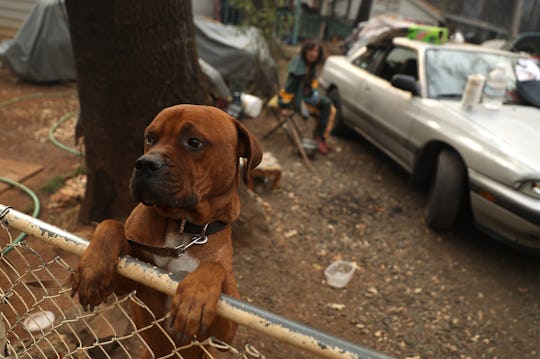 Justin Sullivan/Getty Images News/Getty Images
5 Ways You Can Help Animals Displaced The California Wildfires
As three California wildfires continue to cause destruction across the state, people all over the world are wondering how they can help. Many organizations are accepting donations to go toward helping victims and rehabilitating destroyed areas, and luckily, many animal-focused nonprofits and shelters are doing everything they can to rescue and care for pets and wildlife uprooted during the wildfires. And here's how you can help the California animals displaced by the Camp and Woolsey wildfires.
First, here's an update on the latest statistics from the Camp, Woolsey, and Hill fires. According to a report by CNN on Tuesday morning, the Camp Fire in Northern California has forced 52,000 people to evacuate their homes, 117,000 acres of land have been burned, and more than 7,000 buildings (mostly homes) have been destroyed. In Southern California, the Woolsey Fire has burned more than 93,000 acres, and the Hill Fire has burned 4,531 acres (and the Hill Fire is now about 85 percent contained). The New York Times reported that the total death toll from the California wildfires is 44 people as of Tuesday. And that figure does not account for the animals who were killed in the fires.
Allison Cardona, Los Angeles County Animal Care & Control's deputy director of operations, told NBC News on Monday that an estimated 10,000+ pets have been displaced from the Woolsey and Hill Fires. She also told the news outlet that the agency is now caring for 700 animals (about 550 horses, a few cows, and a tortoise) who were displaced from the wildfires. Wildlife has also been affected by the fires, according to the BBC, and photographers have captured striking shots of wild animals during the fires.
Many smaller agencies, organizations, and even private citizens have also taken in pets in need during this devastating time. Here are five ways to help displaced animals from the wildfires.
1. Donate To The Humane Society Of Ventura County
The Humane Society of Ventura County in Ojai, California still has room for any domesticated animals that need sanctuary after being evacuated from their homes. The nonprofit organization is accepting donations online, over the phone, and in person. Additionally, their website offers the option to purchase supplies the shelter needs to operate through Amazon.
2. Foster A Pet In Need From MaeDay Dog Rescue
Even though so many shelters are doing an amazing job of taking in pets in need, most animals would be more comfortable in a loving foster home than in a shelter. MaeDay Dog Rescue in Los Angeles is currently caring for so many dogs (and some cats) that were displaced by the wildfires, and their website has instructions for donating to help the animals, buying supplies for the animals via Amazon, fostering an animal until they can be reunited with their humans or adopted, and adopting a pet. I'm going to be honest here: I did just start crying while scrolling through all the adorable pups in need of homes on MaeDay's website.
3. Volunteer For (Or Donate) To The Los Angeles County Animal Care Foundation
The Los Angeles County Animal Care Foundation is a nonprofit that aims to raise money to help animals served by the Los Angeles County Department of Animal Care and Control. They are currently focusing to provide shelter for and then eventually reunite pets with their humans after emergencies like the wildfires. The Los Angeles County Animal Care Foundation website has an option to donate, as well as information about volunteering with the organization.
4. Adopt A Pet From The Los Angeles County Animal Care Foundation
Natural disasters like the wildfires are a great reminder of the importance of adopting, not shopping. There are so many pets that are in urgent need of a home. So if you've been thinking about getting a dog (or even if you haven't!) now would be the perfect time to adopt. The Los Angeles County Animal Care Foundation recommends stopping by one of its six open animal care centers and adopting a pet, to make more in shelters for more animals who need to be rescued.
5. Donate To The Pasadena Humane Society & SPCA
The Pasadena Humane Society & SPCA is currently working with the LA County-Agoura Shelter to find housing for its shelter animals. Gifts are currently being matched up to $3,000, so now is a great time to donate.
It's important to remember that animals are not forgotten right now and hopefully every animal displaced from the California wildfires will be in a loving home again soon.