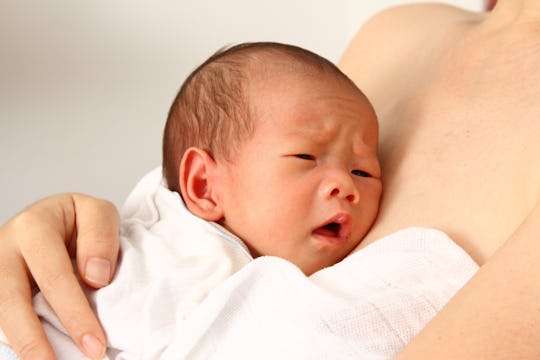 Adrin Shamsudin/Fotolia
How To Help Baby With Silent Reflux? 7 Strategies To Minimize Their Discomfort
There's nothing harder for parents than watching their baby struggle through pain for seemingly no reason. Silent reflux is one of those "invisible illnesses" that plagues many babies from a very young age. If your baby has been diagnosed, or you've noticed symptoms, you're probably wondering how to help your baby with silent reflux. Luckily, there are a few things you can do to comfort and ease their pain.
Silent reflux, also called laryngopharyngeal reflux, happens when a baby's sphincter, the muscle at the end of their oesophagus isn't developed enough to do its job of keeping food and acid where it belongs — in the stomach. According to Just Mommies, instead of vomiting or spitting up (a tell-tale symptom of regular reflux) a baby with silent reflux will experience heart burn-like symptoms and not actually spit up.
Most babies grow out of the illness as they get older, but when they're experiencing symptoms like crying, arching their back in pain, aversion to eating, and pain from lying on their back, it can seem like nothing you do will help. Luckily, there are a few simple ways that may help ease your baby's discomfort. And as always, check with your doctor before implementing any new strategies or therapies.