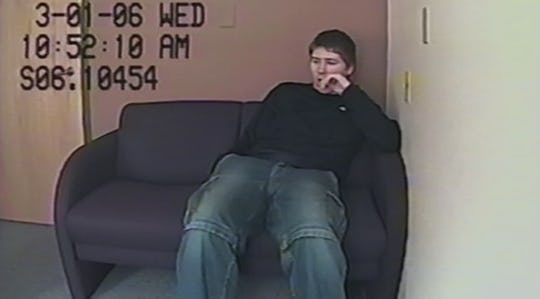 Netflix
How To Help Brendan Dassey, Steven Avery's Nephew In 'Making A Murderer'
Amateur sleuths have a new obsession: the Netflix series Making a Murderer, which profiles two men convicted of murder, whom the filmmakers believe weren't given fair trials by the criminal justice system. The series centers around Steven Avery, a man who was wrongfully convicted once before, then released, before being convicted of the 2005 rape and murder of Teresa Halbach. But some fans are more interested in the case of Avery's nephew and supposed accomplice, Brendan Dassey, who was convicted at just 17 years old. Avery has a new law team and is appealing his conviction, but now fans are wondering how to help Brendan Dassey. A total 129,950 citizens recently petitioned President Barack Obama to pardon Dassey and Avery, but Dassey was convicted in state court, and the President only has the authority to pardon those convicted in federal cases or military court (and, of course, turkeys).
In an interview for Forbes, Laura Nirider, an attorney with Northwestern University's Center on the Wrongful Conviction of Youth, detailed all the ways in which Dassey's case went horribly wrong from the very start. Dassey, 16 at the time, was questioned by police four times in 48 hours regarding Halbach's death, first as a possible witness against his uncle, then later as a suspect. During the interview, which was excerpted in the Netflix series (and clocks in at about four and a half hours in total), Dassey was questioned without a lawyer or parent present (which, believe it or not, is actually legal).
Dassey's story changed multiple times as investigators Mark Weigert and Tom Fassbender asked him to "just tell the truth," claiming that they already knew "pretty much everything," and implying that Dassey's uncle had implicated him in the murder. During the questioning, which was anonymously uploaded to YouTube in June 2015, Dassey first denies any involvement, then claims that Avery asked him for help moving the body, and by the end, he's confessed to both the rape and murder of Halbach, yet he was still under the impression that he would be free to return to school when the interview was over.
Clearly, this was a young man who was in way over his head, who had little (if any) understanding of the the criminal justice system or the gravity of his situation. In addition to being just a kid, The Daily Mail reported that Dassey has an I.Q. of 70, which Human Rights Watch pointed out is within the parameters of a mental retardation diagnosis. (For what it's worth, the Manitowoc Police Department says the confession followed standard protocol.)
Things didn't get any easier for Dassey once he was appointed counsel: attorney Len Kachinsky has been accused of aiding the prosecution more than his own client. Kachinsky sent private investigator Michael O'Kelly to visit Dassey in jail and once again got a confession, according to the Milwaukee Journal-Sentinel, and Kachinsky wasn't even present. "My attorney thinks I'm guilty," Dassey told the judge during his trial. Dassey was eventually appointed a new attorney, but the damage had already been done, and he was convicted of first-degree intentional homicide, mutilation of a corpse, and first-degree sexual assault in March 2007. He was sentenced to life in prison, with the possibility of early release in 2048, when he'll be 59 years old.
Although Dassey has appealed his case multiple times, he's always been denied. Nirider told Forbes that public perception of Dassey before Making a Murderer made it hard for him to get a fair shot. She's filed a writ of habeas corpus, which is a request for a new trial, on the basis of Dassey's allegedly coerced confession and inadequate counsel, and it's currently pending in federal court. Nirider also said that any new evidence brought to light could also be cause for a new trial.
There are a few ways to help Dassey. First, people can contact or donate to the Steven Avery and Brendan Dassey Fund. Though it's important to note that that fund is raising money for both Avery and Dassey. People who want to help can also donate to the Center on the Wrongful Conviction of Youth, the organization Nirider works for that is trying to help Dassey. But, lastly, people can also spread the word about Making a Murderer, in the hopes that somebody who witnessed something, has some undiscovered shred of physical evidence (none has been found), or knows something about Dassey will come forward.
Images: Making a Murderer/Netflix; doe jhon/YouTube