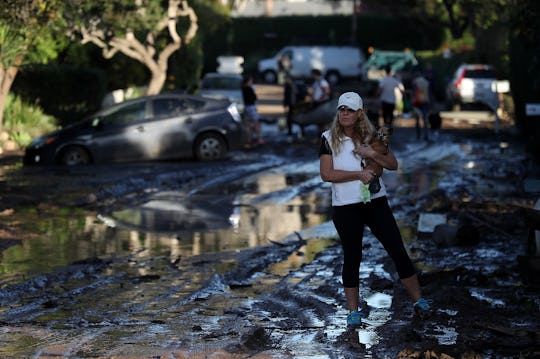 Justin Sullivan/Getty Images News/Getty Images
How To Help California Mudslide Victims During This Devastating & Destructive Time
The mudslides in Southern California caused absolutely devastating destruction. Officials can't even seem to agree on just how many people are missing after the disaster, but at least 17 people are dead and dozens of homes have been destroyed. Needless to say, the people there who have been affected by this tragedy need our help. There are a few ways to help victims of the California mudslide, if you're feeling like you need to do something more than just watch the images on your TV or computer screen.
Santa Barbara County Sheriff Bill Brown said on Thursday that the number of people missing in and around Montecito could be as high as 43, according to CNN. CNBC also reported that same number of people missing and the same source, but on Thursday, the number provided by authorities differed from 48, down to eight, then back up to 43, according to TIME.
The confusion may be because the updated figure of 43 is an "inclusive" number that covers several definitions of "missing," Brown explained. The number could include more immediate, active missing-persons cases, to calls received from people who say they haven't been able to reach someone they think was in Montecito on Tuesday morning when the mudslides hit.
It's safe to say that things are going to be a little chaotic when it comes to figuring out who is actually missing, but while officials figure that out, people from all over the world can take action to help anyone impacted by the California mudslides.
For starters, you can donate to an organization like Direct Relief to help California mudslide victims. Direct Relief is a humanitarian aid organization "with a mission to improve the health and lives of people affected by poverty or emergencies," and it helps in the aftermath of disasters the world over. But it's actually based in Santa Barbara, in California.
Direct Relief released a statement about the floods in California, which said that the organization has staff on the ground, organizing support to respond to the disaster there. The statement read, in part:
Many people have been evacuated from their homes as a result of the flooding. Evacuations often leave people with chronic conditions vulnerable when medicines are not brought along. Without extra medication to manage diabetes, hypertension or asthma, a person can fall into medical crisis, forcing an emergency room visit or worse.
Direct Relief is in the process of evaluating medical needs, and is communicating with the Red Cross, Santa Barbara County Public Health and Emergency Services Departments, as well as the National Voluntary Organizations Active in Disaster to coordinate a response.
Clearly, Direct Relief is an excellent choice if you want to do something to help the mudslide victims. You can donate on their website directly to their "Southern California Fires & Mudslides" program here.
If you're an animal lover, the Santa Barbara Humane Society is supporting those affected by the mudslides by offering emergency shelter for animals, and they could use your financial support. In a post on the organization's Facebook page, the Humane Society wrote:
We are here to support those affected by the severe weather last night with emergency shelter for animals. We have food for most domestic animals if you were not able to grab supplies before evacuating. Please call us at (805) 964-4777 if you have questions about what to do with your animal or need shelter for your animal.
You can also donate to the Santa Barbara Humane Society here.
There's also the American Red Cross of the Pacific Coast. Over 50 people used the American Red Cross evacuation center at Santa Barbara City College on Tuesday night, according to SanLuisObispo.com. The organization said the best way to support Red Cross Disaster Relief efforts right now is with a financial donation, which you can make at this link.
Additionally, the Thomas Fire and Flood Fund, organized by the United Way of Santa Barbara County and United Way of Ventura County, is focused on raising money for victims of both the California wildfires and the latest mudslide disaster, according to Good Housekeeping. To donate to that cause, visit the United Way's website.
Finally, there's a "Feed the Firefighters of Montecito" GoFundMe to give out food and supplies to first responders and firefighters working in Montecito. The campaign's "story" said that "after the First Responders are finished, anything left over will be contributed directly back into the Montecito community to those who have lost everything." You can support that GoFundMe here.
There are a ton of ways to help out the California mudslide victims. Any number of excellent organizations could use your help, so they can support those impacted by the mudslides to the best of their ability.
Check out Romper's new video series, Romper's Doula Diaries:
Watch full episodes of Romper's Doula Diaries on Facebook Watch.