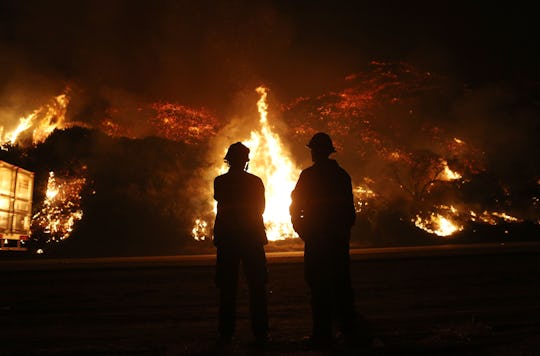 Mario Tama/Getty Images News/Getty Images
Here's How You Can Help The Victims Of The California Wildfires
As several massive, fast-burning, and increasingly destructive wildfires rage across Southern California, about 200,000 people have had no choice but to evacuate their homes. In many cases, they're not sure whether those homes will be burned-out skeletons once they return. The rest of the country — save the thousands of firefighters and military personnel working nonstop on the ground — is watching in horror. And, all too often, with a feeling of helplessness. There is one small piece of good news through all this, though: there are ways to help the California wildfire victims, and you can do so without having to put yourself in harm's way.
And, honestly, it's incredibly important to do so, if your wallet will allow it. The terrible combination of dry weather and strong winds are only feeding the flames as the fires whip through Los Angeles, Ventura, and other counties, CNN reported. As of Wednesday, 9,000 homes had been left without power and about 260 Los Angeles County public and charter schools were expected to be closed Thursday and Friday. Near the small Ventura County town of Ojai, a woman's burned body has been discovered, The Los Angeles Times reported.
As dire as the situation is, it's might be good to keep in mind that old Fred Rogers quote, "Always look for the helpers." The helpers are certainly out there in California right now, and they can really use all the support they can get.
Here's how.
Donate To The Red Cross
When an area is affected by wildfires, the American Red Cross steps in to support emergency responders, serve meals, provide shelter to displaced people, deliver relief supplies, provide much-needed medical support, and create recovery plans, according to its website. The organization reported Wednesday that it had sheltered 430 people from Los Angeles and Ventura counties in seven of its shelters the night before. The American Red Cross accepts donations online and by phone at 1-800-RED-CROSS.
Lend A Hand To Families In Need
Crowdfunding site GoFundMe has set up a dedicated page of verified campaigns related to the wildfires, so contributors can know for sure that their money is going where they think it's going. There, you can donate money to help families such as the Ekblads, who need "clothing, food, diapers, on-going bills and on-going medical costs" and more after losing their entire home. Or you can send whatever you can to Chris, Linh, and their baby daughter, Matilda, Ventura County residents who no longer have a home there because of the wildfires.
Donate To The United Way Of Ventura County
The Thomas Fire of Ventura County burned across 150 square miles there Thursday, making it the biggest active fire in California, The Washington Post reported. So, it makes sense that the United Way has created The Thomas Fire Fund, according to Mashable, which ensures people on its website that every dollar contributed will go to helping those affected by the wildfires. To donate, you can text UWVC to 41444, make a credit card payment online using this handy link, or by phone at 805-485-6288.
Help The Helpers Directly
According to CNN, 5,000 firefighters are potentially putting themselves in harm's way to fight the blazes. So that they can continue doing their jobs effectively and safely, donate to the Los Angeles Fire Department Foundation.
Help Families Reunite
Unlike the others, this one's free. If you're following the trajectory of the wildfires on social media, you might as well do you part to spread the word about the American Red Cross service safeandwell.org. Those who use the site after they've been directly affected by a disaster can register themselves by clicking the "List Myself as Safe and Well." Then, their loved ones can search for them, know they're OK, and they can get down to the business of getting in touch and finding one another. So tweet and post about it!
As these wildfires continue to race around Southern California, it's at least good to know that there are selfless people on the groud helping those most affected — and that you can help those people out.
Check out Romper's new video series, Romper's Doula Diaries:
Watch full episodes of Romper's Doula Diaries on Facebook Watch.