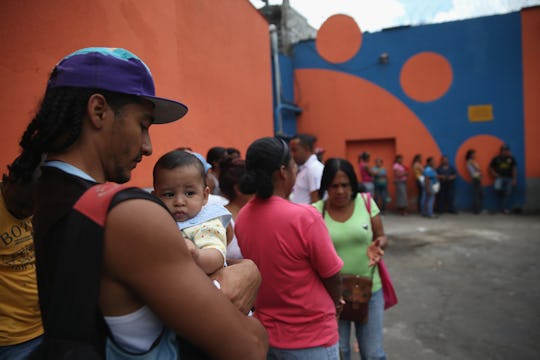 John Moore/Getty Images News/Getty Images
How To Help Children In Venezuela Who Are Dying Of Malnutrition
In a country like the United States, where infant formula is so readily available and easily accessible, it's easy to overlook the fact that it is literally a life-saving option for babies who can't be breastfed. It's a painful reality for parents in Venezuela though, where a devastating economic collapse has meant that their otherwise-healthy children are dying because there is nothing to feed them. What's even worse is that the government has made it nearly impossible for doctors to save them, since hospitals are also dangerously short on supplies. The situation is certainly bleak, though there are some options if you're trying to figure out how to help children in Venezuela. And given the alarming rate of reported child malnutrition cases, it's clear that assistance can't come soon enough for Venezuelan families.
Despite being a nation with one of the largest oil reserves in the world, the Venezuelan political climate and unstable economy has meant that food scarcity has been a major issue in the country for a number of years now — even for those working full-time in jobs that would otherwise be more than enough to keep them afloat. That's a huge concern in and of itself, but, according to a harrowing report by The New York Times, infant mortality rates are now skyrocketing as a result of families being unable to afford — or even find — infant formula for their babies. Although the government has reportedly tried to keep accurate statistical health data from being made public, Venezuelan doctors have said that the number of severely malnourished children arriving in hospital emergency rooms is staggering, with one telling The New York Times that she sees many "arrive with the same weight and height of a newborn," and that they often "die in your arms just from dehydration."
If that sounds horrifying, well, it should. At a time when many American families are gearing up to prepare elaborate holiday feasts, desperate parents in Venezuela who are unable to find infant formula for their babies are often forced to improvise with crude replacements, like cream of rice mixed with water or cow's milk, according to The New York Times. In some cases, neighbors and family members are able to step in to nurse infants, but unsurprisingly, these stop-gap solutions often fall short of what's needed. And with hospitals in the country also suffering from a severe lack of resources, parents who bring their starving children in for emergency medical help are left without many options, and may end up having to watch their children die right in front of them.
Nine out of 10 households in Venezuela can't actually afford enough food, and nearly 10 million people are forced skip at least one meal a day, according to The Guardian. And, the situation is so bad that in some cities, hospitals are actually offering free surgical sterilization clinics for women who are afraid of getting pregnant at a time when they would be hard-pressed to actually provide for their babies, according to The New York Times. But the infants who do survive aren't even sort of out of the woods: many children end up leaving home and living on the streets in search of food, with children as young as 12 and 13 taking jobs in brothels, according to The Guardian. Parents, on the other hand, are often left living off of only water for days at a time so that their children can eat — and are having to rummage through dumpsters in order to make even that happen.
Part of the difficulty surrounding this crisis is that Venezuelan President Nicolas Maduro has been refusing offers of international aid, according to human rights advocacy organization, WOLA — including from the United States. Yet the government can't afford to import goods like food and medicine due to corruption and extreme financial mismanagement, according to CNN, and the situation still isn't showing any signs of improving. But in an attempt to provide some assistance to those in need, a number of groups have emerged locally, and may at the very least be an option for anyone looking to support Venezuelan families.
Primeros Auxilios UCV
Primeros Auxilios UCV is an organization based in Caracas, Venezuela, that provides medical assistance to people in need, medical training to communities, and also helps to provide medical supplies where they are needed — including infant formula.
Donations can be made through the organization's Venmo page, and the website also lists contact information for individuals in a number of cities in the United States who are helping to collect supplies and donations on behalf of the group.
Comparte Por Una Vida
Comparte Por Una Vida is a non-profit organization that provides formula and nutritional supplements to 35 hospitals in Venezuela, and also runs a program to deliver a daily meal to school children in low-income areas. Donations can be made to the group's GoFundMe page, or via the organization's website (in both dollars and bolivars). Food items and infant formula can also be purchased directly on the Comparte Por Una Vida Amazon page.
Programa De Ayuda Humanitaria Para Venezuela
Programa de Ayuda Humanitaria para Venezuela is a registered charity started by Venezuelan-Americans to provide much-needed medicine and medical supplies to hospitals, emergency rescue groups, nursing homes, orphanages, native communities, and other organizations that are not affiliated with the Venezuelan government. Donations can be made on the charity's website, or at a number of physical drop-off locations in Florida.
The hard part, of course, is that even with donations and support, these organizations (and the others like them that exist) won't be able to solve the widespread issues that are leaving Venezuelans to die from causes that should be entirely preventable. That is a heartbreaking reality, and one that is hard to fathom — especially if you're a parent to a well-fed child. But for the families in need, every little bit of help can certainly make a difference, even if it's just a few cans of infant formula, or some much-needed medical supplies.