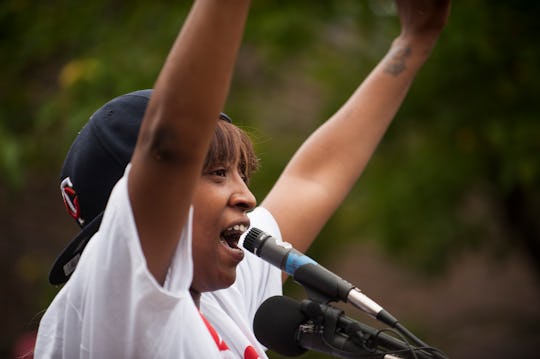 Stephen Maturen/Getty Images News/Getty Images
How To Help Diamond Reynolds In The Aftermath Of Philando Castile's Death
Some may not know her name directly, but chances are most people know of the awful situation she lived through earlier this week. Diamond "Lavish" Reynolds streamed a live video to Facebook on Wednesday, July 6: a graphic video, titled only "Police," that she began filming seconds after a police officer shot her fiancé, Philando Castile. Over five million viewers have watched Reynolds' video, and many have wondered how to help Diamond Reynolds as she lives through the aftermath of what has become a very public tragedy.
The case around Castile's death will likely take a while to unfold, and there isn't much that can be done to hurry the justice process. However, nobody should have to live through the unjust death of their fiancé while their four-year-old daughter sits in the back seat, and Reynolds was unspeakably strong to live-stream the aftermath of Castile's death as it happened. Speaking to reporters and activists in St. Paul on Thursday, Reynolds said:
They took his life for no reason. They did this to my daughter and they did this to me and I want justice and I want peace.
For the many who watched — or heard of — Reynolds' tragedy and Castile's death, there are several ways the public can help her.
Contribute To Reynolds' GoFundMe
On Thursday, Reynolds' friend Verquisha Powers created a GoFundMe page for Reynolds and her daughter. "The most disturbing thing about this incidicent is that Lavishs' 4 year old daughter was in the back seat and witnessed the whole thing," wrote Powers on the GoFundMe page. "She & Lavish have to live with this for the rest of their lives, and will be traumatized by this forever. The funds from this will help them rebuild their lives after this unexpected tragedy."
As of Sunday night, just over $44,000 had been raised in three days. Powers set a $75,000 fundraising goal, but any and all contributions will help Reynolds out as she grieves.
Show Support — On Social Media & In Person
Hearing the stories of Philando Castile, Alton Sterling, Freddie Gray, Michael Brown, and other black men shot by police can seem immensely frustrating. Every time a new story emerges, it's exhausting to hear a similar, horrifying story in a different setting. But that makes it more important than ever for others to share their support for the victims and their families, whether in person or online.
Support Reynolds by sharing her story on every platform you can. Thank her on social media for her courage. Share her story with those you care about. Attend rallies demanding justice for Castile and others who have been killed despite no wrongdoing. Add your voice to the growing numbers of people demanding change, until there's no alternative but real change.
Support The Black Lives Matter Movement
The day after Castile was shot and killed, Reynolds attended a Black Lives Matter demonstration by the Governor's Mansion in St. Paul to speak about his death. To support the cause, consider supporting Black Lives Matter. You can join a local chapter, donate to Black Lives Matter, and find or create an event.
There's plenty of other ways to show your support for Reynolds. Talk to your city's police about Castile — cultivating open conversations is one of the stepping stones to a better future. Generate a conversation. If you disagree with what occurred on July 6, don't sit back and simply take in the news: stand up and talk about it. Nobody can take back what happened to Castile — but we can show our support for Reynolds and work on creating a better future for her daughter.