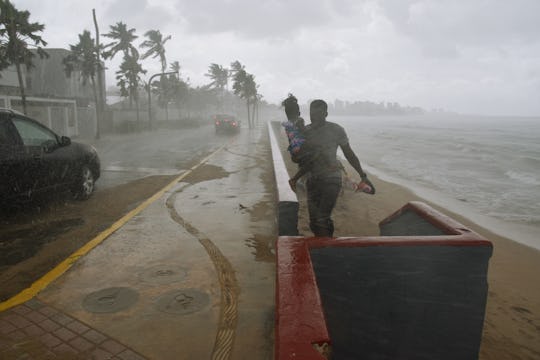 HECTOR RETAMAL/AFP/Getty Images
Here's How To Help Dominica After Hurricane Maria Battered The Island
Hurricane Maria may still be working its way through the Caribbean, but the Category 5 storm has already left a trail of destruction in its path. On Monday night, the hurricane tore through Dominica with winds so strong that they reportedly tore the roof off of the prime minister's residence itself. At least seven people have been reported dead since Tuesday morning, and Prime Minister Roosevelt Skerrit wrote on Facebook that the country has "lost all what money can buy and replace." This is unimaginable for many, so if you're wondering how to help ease that burden, here's how to help Dominica after Hurricane Maria unleashed its wrath.
Much of Dominica has been without communications ever since Skerrit updated the world on its state on Facebook early Tuesday morning. But according to The Weather Channel, 70 percent of homes have lost their roofs and a large number of houses and public buildings have been destroyed. "We will need help, my friend, we will need help of all kinds," Skerrit wrote on Facebook. "Initial reports are of widespread devastation."
It may be a while still before the world hears more detailed reports about the extent of damage from Dominica, but so far, it seems like the island that some 73,000 people call home has been badly damaged. Fortunately, there are a few ways that you can start contributing to Dominica's recovery even as the island regains its footing. Here's where to start:
Donate To Global Giving's Fundraising Page
Global Giving has launched a donation page where people can donate specifically to relief efforts in the Caribbean after Hurricanes Maria and Irma. Any money donated to the fund will go towards Global Giving's local nonprofit partners and ensure victims are getting emergency supplies — including water, food, and medicine — as well as helping the country rebuild.
Check out Global Giving's hurricane relief fund to donate — and if you can't donate, share the page anyway to spread the word.
Support The Dominica American Relief & Development Association
Here's another fundraising page launched by a certified nonprofit, the Dominica American Relief and Development Association. The organization has helped out during past hurricanes that have hit Dominica, and it's now fundraising to support victims of Hurricane Maria on GoFundMe.
The New York-based organization also tweeted that it is in touch with the Consulate of Dominica and will have a list of drop-off locations for supplies soon. So keep an eye on its Twitter account for further information.
Contribute To The Caribbean Tourism Organization's Fundraiser
The Caribbean Tourism Organization is raising funds to distribute to affected countries in the Caribbean, and Dominica is high on its list.
"We at the Caribbean Tourism Organization (CTO) are heartbroken over the hurt that Hurricane Maria has inflicted on Dominica," the organization wrote on Tuesday. "We will immediately begin to assist with sourcing and raising funds, relief suppliers and shelter. We will also help to manage the vital communications process."
So far, the CTO has raised over $11,000 — but it's still short of its $100,000 goal. Donate to the CTO's Hurricane Maria fund on GoFundMe.
Support UNICEF's Efforts
UNICEF is already working with local partners and governments to get emergency supplies to victims of Hurricane Maria. The organization also ensures that affected children continue to have access to education despite a crisis like Maria, thanks to its school-in-a-box program, teaching supplies, and childhood development kits.
Donate to UNICEF online to help children or volunteer with UNICEF to spread the word and raise funds.
Hurricane Maria's damage is still fresh, and until we know more about the extent of the damage, it'll be hard for organizations to plan exactly what they need and where. However, keep your eyes open for any Amazon wish lists from Dominica-specific organizations, as well as any drop-off locations or places where you might be able to volunteer your time. If everyone contributes what they can — even if that is simply spreading the word on how to help — the people of Dominica will have a much easier time recovering from this natural disaster.
Watch Romper's new video series, Romper's Doula Diaries:
Check out the entire Romper's Doula Diaries series and other videos on Facebook and the Bustle app across Apple TV, Roku, and Amazon Fire TV.