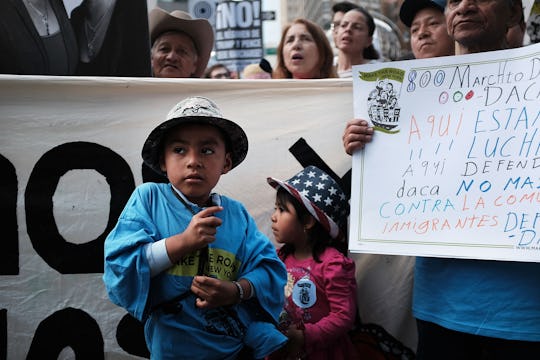 Spencer Platt/Getty Images News/Getty Images
How To Help DREAMers After Trump Ends DACA
The Trump administration announced on Tuesday that it will end the Deferred Action for Childhood Arrivals program — also known as DACA — by letting the program "wind down" in six months time, according to NPR. That's bad news for the 800,000 people known as "DREAMers," who are undocumented and came to the United States as children and had previously applied for protection from deportation under the program. Now that the decision is official, people are looking for ways to help DREAMers after Trump ends DACA, because they will need support more than ever.
Homeland Security Acting Secretary Elaine Duke said no current beneficiaries of the program will be affected by this decision before March of next year. But she also said, according to NPR:
No new initial requests or associated applications filed after today will be acted on.
So the program, in it's current form, is essentially halted.
However, there is hope that the program, or something similar to it, could be saved by Congress. When Attorney General Jeff Sessions made the announcement Tuesday, he said Congress can work on immigration reform from a legislative approach. Sessions said of the "wind-down" of DACA, according to Politico:
This will enable DHS to conduct an orderly change and fulfill the desire of this administration to create a time period for Congress to act — should it so choose. We firmly believe this is the responsible path.
So one way to help DREAMers right now is to contact your representatives and urge them to support DACA and those who benefit from it. Find your representative and call your congressperson ASAP to ask them to defend DACA and protect the thousands who are protected by it.
A Democratic leadership aide in the Senate previously said that working with Republicans on DACA "will be a high priority" for Democrats if Trump announced an end to the program, according to CNN. Now that the announcement has been made, it's time for leaders to act. And for the rest of us to make sure that they act.
People looking to help DREAMers can also help simply by being visible and outspoken about their support. It's a very scary time for DREAMers, and knowing that they have allies may be more impactful than you think.
By speaking out on social media, and by showing up at rallies and protests to defend DACA, you're creating visible resistance to the idea of it being rescinded. This is especially helpful and meaningful if you are not a DACA recipient, and not putting as much on the line by showing up (I'm talking to you, fellow white people).
But your support can also go to organizations that have already been working towards protecting DREAMers and other immigrants, and that will continue to do that work no matter what happens with DACA.
Organizations like the National Immigration Law Center, the Immigrant Defense Project, and the Young Center for Immigrant Children's Rights are just a few groups that have a lot of experience when it comes to fighting for immigrant rights. But these organizations need support in the form of donations, volunteers, and other aid to keep doing the advocacy they're committed to.
There's no way around it: Tuesday's announcement in regards to DACA is a discouraging one. But there are still things that can be done to help DREAmers in the wake of Trump ending DACA, and you need to act fast.