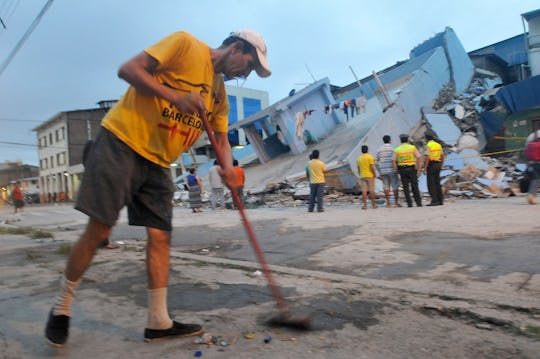 JOSE SANCHEZ L/AFP/Getty Images
How To Help Ecuador & Other Nations Recently Struck With Natural Disasters
Two devastating earthquakes struck Japan and Ecuador this week, leaving thousands without homes or vital services, and many remain missing as the death tolls rises in both countries. Three major earthquakes hit Japan in a span of three days alone, and in Ecuador, a massive 7.8 magnitude earthquake hit the country on Saturday, burying the country in rubble. For those eager to figure out ways to help Ecuador and other nations recently struck by the earthquakes, there are a few things to remember.
According to NBC News, Ecuador's northwestern coast was demolished after an earthquake with a magnitude of 7.8 flattened buildings and destroyed towns on Saturday. More than 1,500 were injured in the quake and and the death toll was raised to 235 by Sunday afternoon, leaving authorities with nothing to do but declare a state of emergency. This is the strongest earthquake to hit Ecuador since 1979.
Meanwhile, at least 41 people died during a 7.0 magnitude earthquake that devastated Kumamoto Prefecture on the Japanese island of Kyushu on Saturday. According to CNN, Prime Minister Shinzo Abe has described the search for survivors as a "race against the clock", as bad weather and a threat of landslides make current relief efforts very difficult.
It's a terrible situation all around. Thankfully, there are some ways for you to help, wherever you may live.
Ecuador
Relief efforts in Ecuador are still new and emerging, as the scale of the earthquake and the amount of damage created is still being assessed and the death toll continues to rise.
The International Red Cross has already released a statement in response to the damage having sent 800 volunteers on the scene to help with search and rescue efforts. While they are expecting urgent needs in various points of care, they are currently assessing what other kinds of assistance they need on the ground.
According to CNN, there have been no formal appeals for donations from either the Red Cross or UNICEF — which is also assessing the quake's impact. UNICEF has asked that supporters make a donation to its Children's Emergency Fund, which will help the children and families affected by the disaster in Ecuador and other disasters around the world.
Japan
Many relief funds have popped up to help the victims of the disaster in Japan, raising over $14 million to help the victims in total so far. However, there are still a few ways that you can directly help with the relief efforts in Japan yourself.
The Association for Aid and Relief, Japan allows you to donate directly to where you want funds directed — such as the names of the earthquakes that have hit the country. The website allows gives those looking to donate the option of giving $25, $50, or $100.
Save the Children has also started collecting donations for earthquake relief efforts, taking the stand to help children during their time of need. You can donate to the site directly.
As more news gets out about the earthquakes and the damage they've caused within the next few days, it will be more important than ever to do whatever possible in order to help with the clean up, as well as the reconstruction of so many lives in both nations.