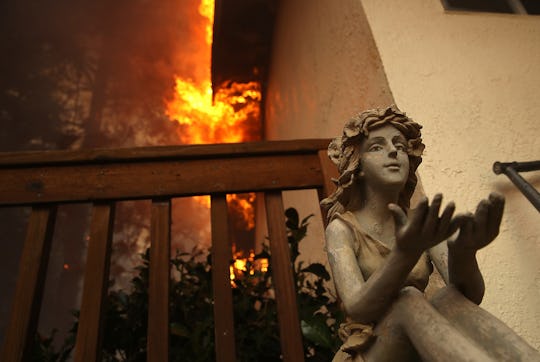 Justin Sullivan/Getty Images News/Getty Images
Here's How You Can Help Families & Children Affected By The California Wildfires
The numerous wildfires ravaging several areas of California have evoked feelings of shock and terror. Footage flooding in and reports of lives lost are leading many to look to do their part in aiding recovery. If you feel this way too, here's how to help families and children affected by the Camp and Woolsey wildfires.
Despite their good intentions, the people of Southern California have overwhelmed the Los Angeles Fire Department with their donations of physical goods, according to The New York Times. The excessive giving led the department to post to Facebook and ask the public to cease their donations. Donations of personal care items, food, and water have pushed the department to its limits. "Sadly, we're not only emotionally overwhelmed with your profound kindness during the Woolsey Fire, but logistically as well," the post reads. "To the point that the well-meaning donation of physical goods to firefighters is at the brink of causing harm."
Instead, Good Samaritans should remember what the Center for International Disaster Information reported about giving in times of crisis: sending money is usually the best way to help. That way, the funds can be channeled where they are the most beneficial. If you are looking to donate, here are some good places to donate to.
Buy Something On This Baby Registry
According to HuffPost, the nonprofit Baby2Baby is helping families by distributing the essential items that have been lost in the fires. Purchasing something from the Baby2Baby registry supported by Target gets diapers, wipes, blankets, and other basic needs to the fires' most vulnerable victims.
Contribute To Other Nonprofits Providing Aid
Along with Baby2Baby, a number of nonprofits are collecting money to open shelters, provide supplies, and feed those affected by the fires. Here's a few vetted and trustworthy organizations helping out.
California Community Foundation's Wildfire Relief Fund: This organization has supported those affected by wildfires for over a decade. Funds raised go towards rebuilding homes, financial and mental health assistance, and medical treatment.
American Red Cross: The Red Cross offers shelters across the state for evacuees. AT&T customers can donate by texting "CAWILDFIRES" to 90999 to give $10. All other can use the Red Cross' online donation site.
Entertainment Industry Foundation: This nonprofit was started by Samuel Goldwyn, Humphrey Bogart, James Cagney, and the Warner brothers in 1942 to support firefighters and other emergency workers. Donate on the foundation's website.
Contribute To Hospitals & Firefighters
As Marie Claire reported, donating to those on the ground helping out is an effective means of support. The California Fire Foundation provides pre-paid gift cards to those in need that help them buy clothing, food, and other essentials. It is accepting donations via its website. Additionally, you can donate directly to both the Los Angeles Fire Department and the Firefighters Charitable Foundation.
Along with firefighters, medical professionals are serving those in need. The Enloe Medical Center is located in Chico, California and is providing 298 beds and shelter to evacuees of the Camp Fires, according to Marie Claire. Donations to this organization support patients and families who have been displaced in the fires.
Support Crowdfunding Efforts
Nonprofits aren't the only ones out to fund aide for the fire. According to the Times, GoFundMe has compiled a list of crowdfunding efforts for victims in California. Donating to these is another choice for those wishing to help.
Open Up Your Home
Finally, along with donating money for supplies and care, those living in and around California can open their homes to evacuees, as Cosmopolitan reported. Through Airbnb, you can list your home as available for free to California fire victims.
No matter how you choose to help, the thousands of people impacted by the raging wildfires in California are depending on the assistance of the organizations providing aid.