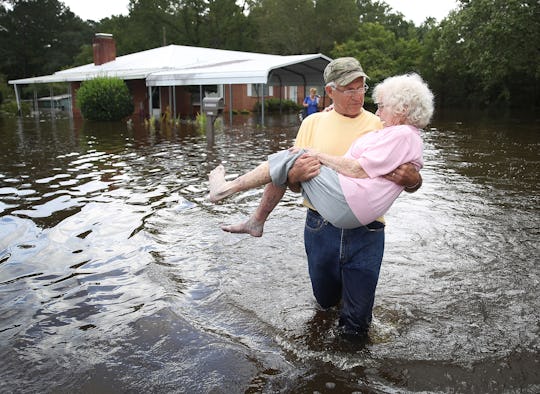 Joe Raedle/Getty Images News/Getty Images
Here's How You Can Help Families Impacted By Hurricane Michael
On Wednesday, Oct. 10, Hurricane Michael touched ground and pummeled the Florida panhandle with record-breaking wind speeds of up to 155 mph and flood-inducing torrential rains, according to the Associated Press. Because of the extensive damage that is expected to result from Hurricane Michael, recovery is expected be long term. For those in the United States who are not affected, helping those who are might be the only way Florida can get back on its feet. And if you're wondering how to do that, here's how you can help families impacted by Hurricane Michael.
Currently, 375,000 people in over 22 counties along the Gulf Coast have been ordered to evacuate, according to the Associated Press. Those that choose not to, or could not, will be forced to ride out the storm, according to TIME. "We are in new territory," Dennis Feltgen, a meteorologist for the National Hurricane Center, said on his Facebook page. "The historical record, going back to 1851, finds no Category 4 hurricane ever hitting the Florida panhandle."
Downed trees, flying debris, explosions from blown transformers, power outages, and damaged roadways are only the beginning of the problems expected from Hurricane Michael, the strongest storm to hit the United States since 1992, according to The Telegraph. And, that is why help is so desperately needed now, and in the weeks to come.
Donate To The Red Cross
Recovery efforts and supplies for victims will be a huge cost for the state and individuals who are trying to get back on their feet. Consider making a tax deductible cash donation to the American Red Cross, which will then distribute the funds accordingly.
You can also text MICHAEL to 90999 to make an immediate $10 donation.
Donate Blood
As with any natural disaster, there will unfortunately likely be injuries and possibly casualties, and local hospitals will be looking for blood donations, according to the Red Cross. Visit their website to find a local donation bank. Simply fill out the form to find a location nearest you. Chances are you won't have to go far. And of course, they are always looking for volunteers to work on site for Florida relief efforts. Find your local American Red Cross chapter and call directly for options.
Get Involved With Habitat For Humanity
Habitat for Humanity focuses on a three-part agenda: responding, clean up and recovery. The organization has a special subdivision called Humanity Hammers Back, which is specifically for hurricane relief efforts.
You can join your local chapter to take a more hands on approach to helping (organizing supplies and shipping them out) or donate money directly to the cause.
Donate To Save The Children
This organization was instrumental in providing family-friendly services and supplies to those in need during Hurricane Florence, according to FOX 61, and they're prepared to do it again for Hurricane Michael on a much bigger scale. They also set up child-friendly areas at relief centers, so children continue to have a sense of normalcy during difficult times.
The best way to help Save the Children, is by making a monetary donation directly to their Hurricane Michael Children's Relief Fund.
Make A Contribution To Americares
Americares Worldwide Disaster Relief Fund focuses on the health needs of those affected by natural disasters by providing health clinics, medical aid and pharmaceutical distribution. They already have a response team on the ground in Florida, and are now focusing on relief efforts. Your donations will go towards supplies and long term recovery.
Donate & Support Global Giving
Global Giving is a crowdfunded community that connects donors, nonprofits and companies in communities that are in need of help from natural disasters and more. Donations to their Hurricane Michael Relief Fund will help first responders meet immediate needs for food, fuel, clean water, hygiene products, and shelter.
Donate To The Salvation Army
Donate to the Salvation Army's Disaster Relief Fund to help purchase clean up kits for first responder volunteers who will hit the ground running as soon as the hurricane clears.
Seeing such a high level of destruction, like the kind created by Hurricane Michael, can leave most people feeling helpless. But, action is the best medicine for this kind of heartache. All of the above organizations are putting relief efforts into motion so that those most affected by Hurricane Michael get the help they need. Every little bit helps!