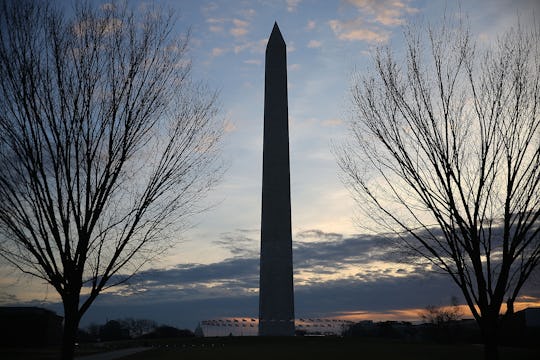 Joe Raedle/Getty Images News/Getty Images
How To Help Find Washington DC's Missing Girls
A dozen teen girls are missing in the Washington D.C. area, and it's causing panic on social media. The hashtag #missingDCgirls was trending on Twitter on Friday, and has brought attention to this critical issue. Spreading the word is important to make sure these teens are safely brought home, but there are other things you can do, too. Here is how you can help find Washington D.C.'s missing girls.
The number of teens missing was initially 18 but is currently 12 after six girls were found safely, according to a Facebook Live video posted Friday with D.C. police's Head of the Youth and Family Division Chanel Dickerson. The girls who are missing are all black and Hispanic. Police sources have said that they don't believe the cases are a trafficking ring but rather are runaways.
But no matter why they are missing, these girls are vulnerable. "When...you have a child out there...there are people in our community that will prey on those children," Acting Police Chief Peter Newsham said at the town hall, Fox reported.
"One child missing is one too many," said Derrica Wilson, president of the Black and Missing Foundation, also said at the meeting. "It is not so much about the numbers. It is about the ones that are missing, what we can do to get them safe."
For those who want to help get these girls reunited with their parents, here are some ways to get involved.
Know Their Names, And Share The Stories On Social Media
The most important thing you can do to help find the girls is to know their names and what they look like. The D.C. Police Department has posted names and pictures of several of the missing teens, as well as other missing people, on Twitter, including Anjel Burl and Demetria Carthens. Since sharing information about these girls on social media, Dickerson said during the Facebook Live video that hospital staff, Uber drivers, and many other community members have assisted in the search.
Pay Attention To The Latest Updates
On Wednesday, there was a town hall meeting held in D.C. regarding the missing girls. Police addressed worried parents' concerns, and assured them that there isn't a spike in missing people (the number of missing persons has actually decreased, USA Today reported). After the meeting, six of the missing girls have been located, according to Dickerson. Attending these meetings are essential if you want to help. But The Root reported that most of the people who attended the meeting were black, and while most of the teens who are missing are black, these girls deserve the support of the entire D.C. community and beyond, regardless of color.
Support Legislation To Find — And Prevent — Missing Persons
Congress Heights Commissioner Sharece Crawford recently presented "Resolution Regarding Missing Persons" to D.C.'s Mayor Muriel Bowser. Crawford is pushing for changes to make missing persons cases more widely public and to keep children safe, and public support could help get those changes implemented. The resolutions include changing policies regarding who is qualified to receive an Amber Alert, and approving a Safe Way Home bill to ensure children have safe transportation home.
Find A Way To Donate
This piece of advice is for the families of the missing teens, or those who are close to them: set up a GoFundMe page. There aren't any crowdfunding campaigns yet to support the families of these missing girls, which is shocking. Donating to families who are searching for a loved one can help "finance the search, fund a reward, or support the family if a parent is unable to work during the search process," according to the Office of Juvenile Justice and Delinquency Protection. In the meanwhile, you can donate to organizations such as Black & Missing, which is dedicated to bring awareness to missing black people and aids families with missing loved ones.