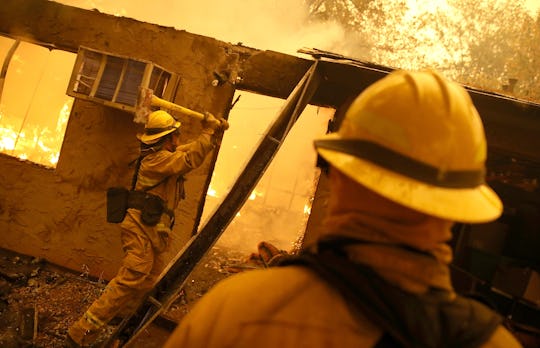 Justin Sullivan/Getty Images News/Getty Images
Here's How You Can Support Firefighters Battling The California Wildfires
What quickly became the deadliest wildfire in California's history continues to rage across the state as emergency response teams do their best to combat the flames. It's undeniably a hard, stressful, and dangerous job, but there are many ways you can help the firefighters in California as they continue to battle the Camp and Woolsey wildfires. Thousands of firefighters are battling these flames and many of them have lost their own homes, so it's important to offer support if you can.
Currently, firefighters are battling a series of flames, as reported by CNN: the "Camp Fire", the "Woolsey Fire" and "Hill Fire." And on Monday, Nov. 12, the infernos that ravaged Paradise became the deadliest wildfire in the state's modern history. According to The New York Times, officials reported that they had discovered the remains of 13 more people. Now, according to CNN, the toll is up to 44 people, with the Camp Fire alone responsible for 42 deaths.
The Camp Fire has burned almost 7,200 structures, most of them homes, making it the most destructive in state history, as reported by CBS News. The Woolsey Fire has destroyed 370 structures so far, according to CNN, and both fires have reportedly injured three firefighters each.
These fires are not yet completely contained, so firefighters are still on the front lines. Supporting firefighters is one easy way you can help the battle against these wildfires — here are a few places you can donate to.
International Association of Fire Fighters Disaster Relief Fund
The IAFF is a 100-year-old organization representing 315,000 firefighters and responders, as outlined by TIME. They are currently accepting donations for a Disaster Relief Effort to help firefighters working on the front lines and their families, from financial to emotional support.
At least 60 firefighters have lost their own homes while battling the blazes, according to the IAFF's official Twitter.
California Fire Foundation
The California Fire Foundation is a nonprofit founded by California Professional Firefighters, and supports both firefighters and the families of those who died while at work. You can donate directly to the California Fire Foundation, and they have also compiled Resources For Wildfire Victims, which outlines various ways to help victims of wildfires.
In addition, they have the Surviving Aid To Victims of Emergency (SAVE) Program. As outlined on its website, the CA Fire Foundation partners with "fire departments and their respective bargaining units across the state of California to provide immediate financial assistance to eligible victims of fire and disaster in the form of $100 gift cards".
The Los Angeles Fire Department Foundation
The Los Angeles Fire Department Foundation is actively supporting firefighters working to contain the Woolsey Fire, according to Allure.
The LAFD works in "protecting life, property, and the environment by providing essential equipment, training, and public outreach programs to supplement city resources," according to its website.
They are seeking donations, especially in order to purchase hydration backpacks. You can donate by visiting supportlafd.org.
The CDF Firefighters Benevolent Foundation
This foundation provides funding for injured or fallen firefighters and their families, as well as burn victims, according to its website.
You can donate to the CDF Firefighters Benevolent Foundation by visiting its website or, as outlined by the foundation's Twitter, by texting "CalFireCDFF" to 91999.
The full impact of the Camp and Woolsey Wildfires won't be known until they are completely contained. Still, it's clear that these fires are destructive and deadly. Supporting firefighters is one small way to help, no matter where you are.