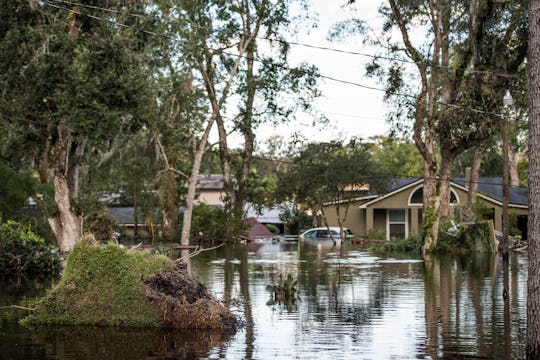 Sean Rayford/Getty Images News/Getty Images
How To Help Florida After Hurricane Irma, Because They Need Support
Hurricane Harvey brought catastrophic devastation to Texas in August, leaving millions displaced thanks to intense rainfall and flooding that left much of Houston underwater. But less than three weeks later, the country was already facing round two: Hurricane Irma hit Florida Sunday, causing widespread destruction throughout the state, and leaving an estimated 4.4 million without power, according to CNN. With clean-up efforts now underway, many are wondering how to help Florida after Hurricane Irma. But while the storm's impact will likely be long-lasting (not to mention incredibly expensive), there are actually plenty of ways to reach out and make a difference.
On Monday, Irma was downgraded to a tropical storm — good news, at least for those in states like Georgia and Alabama, who were next in line to brace for extreme weather. But when Hurricane Irma first touched down in the Florida Keys, it was a category 4 storm, and was ranking as one of the most powerful Atlantic hurricanes ever after it tore through the Caribbean, where it left nearly 40 people dead, according to The Telegraph. For those of us not directly affected by the storm, it can be hard to truly understand the reality of what Floridians are facing right now, and it can also be hard to discern the best way to support them. But according to The Boston Globe, the easiest and most effective way for most Americans to support Hurricane Irma victims is through a financial donation, and there are a number of reputable relief organizations that will quickly be able to put your contribution to good use.
The American Red Cross
There's good reason why the Red Cross is usually the first name many people think of when it comes to disaster relief — it's a massive organization that has been around for more than a century, setting up shelters and sending supplies and volunteers to areas in need whenever a crisis hits. And while the organization has received some backlash due to recent allegations of mismanaged funds and high administrative and overhead costs (which, according to USA TODAY, have been estimated to be as high as 25 percent), experts say the Red Cross is still a good place to send donations in the immediate aftermath of a disaster. Despite its shortcomings, Charity Watch founder Daniel Borochoff told USA TODAY that the Red Cross is "necessary as a vitally important lead disaster relief agency," and said, "the message should be, give some to them for emergency short term needs, then give some to groups that are able to address longer term needs."
The good news is that donating to the Red Cross is extremely easy to do: you can donate online at the organization's donation page for Hurricane Irma, by phone at 1-800-RED-CROSS, or simply text "IRMA" to 90999 to make a $10 donation.
The Miami Diaper Bank
Dealing with the fallout of a major hurricane is going to be hard for anyone, but when you're also a parent of a young child? Well, that's going to be even more stressful. The Miami Diaper Bank is a south Florida-based organization that is working with partner agencies, shelters and other nonprofits to provide diapers to families in need — and if you've got a little one at home, you know what a big deal that is.
According to the organization's website, 100 percent of every donation made until the end of the month will go directly toward purchasing diapers for families in South Florida affected by Hurricane Irma. In an effort to be as efficient as possible, The Miami Diaper Bank doesn't actually accept donations of diapers, but will use all funds sent their way towards ensuring that diapers are distributed to shelters and to nonprofits that are providing relief services to babies and families in need. You can donate online at the organization's website, or via Jet.com's Give A Pack campaign — add in a donation to The Miami Diaper Bank while making your own purchase, and the organization will purchase diapers at a discounted wholesale rate to distribute to families affected by the hurricane.
Airbnb
For those who may not be able to send money, but still want to help, Airbnb is connecting those in need of housing (either because they were displaced from the storm, or because they're relief workers sent to help) with those willing to offer up their rentals for free. If you have housing available to share, you can sign up to list your property for a rate of $0 through the site's "Open Homes" program, and the listing them becomes available to anyone registered through the site who needs a place to stay.
In addition to hosts in Florida (particularly in the Panhandle, Tallahassee, and in the greater Orlando area), Airbnb is also appealing to hosts in Northern Georgia, North Carolina, South Carolina, Alabama, where the need for housing is high.
Volunteer Florida
When a disaster strikes in Florida, Volunteer Florida is the primary agency there to mobilize and deploy volunteers, and in the case of Irma, that's meant ensuring adequate support for shelters and other disaster relief organizations.
Before the hurricane hit the state, Florida Gov. Rick Scott put out a call for volunteers, noting that while the state was anticipating about 10,000 people to join the volunteer relief effort, as many as 7,000 more volunteers were still needed, according to ABC News. While much of the volunteer effort was organized through the Red Cross, Volunteer Florida has helped to coordinate volunteers at local shelters, and some are still looking for help. If you are a Florida resident, you can register for opportunities on the agency's website. Out of state? Volunteer Florida is also taking donations for the Florida Disaster Fund, the state's official private fund established to assist communities and families impacted by disasters.
Of course, these are only a few of the options available for anyone looking to offer their support to Hurricane Irma victims, and there are many other great organizations that will be particularly important in the months to come, as the focus shifts from the immediate crisis response to a long-term support strategy for those affected. But right now, it's clear that those in Florida could really use some help, and sending some money or volunteering your time or home could make a huge difference.
Watch Romper's new video series, Romper's DoulaDiaries:
Check out the entire Romper's Doula Diaries series and other videos on Facebook and the Bustle app across Apple TV, Roku, and Amazon Fire TV.