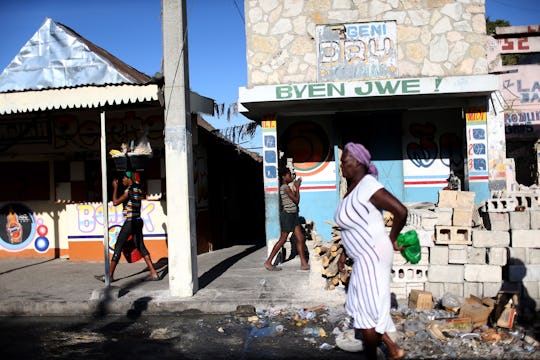 Joe Raedle/Getty Images News/Getty Images
Here's How To Help Haiti, Years After The Devastating Earthquake
People throughout the world were justifiably outraged when The Washington Post reported Thursday that President Donald Trump referred to Haiti, El Salvador, and some African nations as "sh*thole countries." The president has since denied that he made the remark, and in a string of tweets, he claimed he had "a wonderful relationship with Haitians," and that he had "never said anything derogatory ... other than Haiti is, obviously, a very poor and troubled country." Regardless of the truth of that statement, he is at least correct that Haiti has faced some seriously hard times, so here's how to help Haiti in 2018 — because the country ravaged by a 7.1 earthquake in 2010 is still struggling to get back on its feet.
Although many on social media quickly dismissed Trump's denial as a lie, the bigger issue is that, despite his "wonderful relationship" with the people of the country, he doesn't exactly seem to be willing to do much to help them. In fact, his decision to deny immigration protection for Haitian immigrants — and the vulgar remark he may or may not have used — came only a day ahead of the eighth anniversary of the devastating quake, which killed more than 200,000 people, and left hundred of thousands of others displaced, according to CNN. (Romper reached out to the White House for comment, but did not hear back at the time of publication.)
After the earthquake, the United States government granted deportation protection to nearly 60,000 Haitians who'd come to the country, according to The Washington Post, but in November, the Trump administration rescinded that protection, and gave them until July 2019 to return home. Yet when they do return, the situation won't be a whole lot better than when they left: Haiti is currently the poorest country in the Western Hemisphere, as well as one of the poorest in the world, ranking at number 17 on Global Finance's list of the world's poorest countries. The already-struggling nation was also hit hard by Hurricane Matthew in 2016 according to The Huffington Post, and experienced a brutal cholera outbreak, from which nearly 12,000 Haitians are still suffering. And if that weren't already enough, according to the United Nations, more than 1.3 million people in Haiti are also facing "acute food insecurity."
So what can you do to help? Many of the same recommendations that were helpful after Hurricane Matthew in 2016 still apply, and one of them is to support Haitian-led organizations, who, according to The Washington Post, are much more likely to be able to actually provide valuable relief — especially to isolated, rural areas — than the larger international charities most people first think of when looking for places to donate. So while certainly not an exhaustive list, these organizations may be a good place to start:
Capracare Haiti
CapraCare Haiti is a non-profit organization "dedicated to developing sustainable community health programs" in Les Cayes, Fonfrede, a Haitian community with "very little access to health care." Donations can be made online here.
PRODEV Haiti
PRODEV is a nonprofit organization in Port-au-Prince, Haiti that develops and manages free-to-attend schools in underserved communities based on the notion that "only education can create a stronger Haiti." Donate online here.
Danielle Saint-Lot Foundation
The Danielle Saint-Lot Haiti Women's Foundation is a non-profit that seeks to "empower Haitian women through the promotion of social entrepreneurship, leadership skills, and professional development." It's main program is a one-year-long "Haitian Women's Business Academy," which helps women-owned businesses from the agri-business and craft sectors thrive. Donate online here.
It's also worth noting though that, in spite of Trump's reported "sh*thole" comment, Haiti is actually a destination that is totally worthy of your tourism dollars. Although the nation certainly struggles, especially in remote and rural communities, The Independent pointed out that it's also home to "soaring mountains...tumbling waterfalls...[and] deserted Caribbean beaches," as well as one of the Carribbean's largest cave systems. Hotels and restaurants dot the coast, and yoga retreats and surf schools have also emerged in recent years.
While Haiti's tourism sector is still emerging, there's no question that supporting it can make a big impact. As Valérie Louis, executive director of the Association Touristique d'Haïti, explained to The Independent, "The best way to help a community and an area is to come and visit."
There's no denying that Haiti is a country that has faced incredible hardship, but Trump's view of the nation as one that has little to offer is incredibly shortsighted. So while being angry at Trump's view is absolutely understandable, the eight anniversary of Haiti's earthquake is also a really good time to funnel that anger into finding a way to offer the people of Haiti some much-needed support.
Check out Romper's new video series, Romper's Doula Diaries:
Watch full episodes of Romper's Doula Diaries on Facebook Watch.