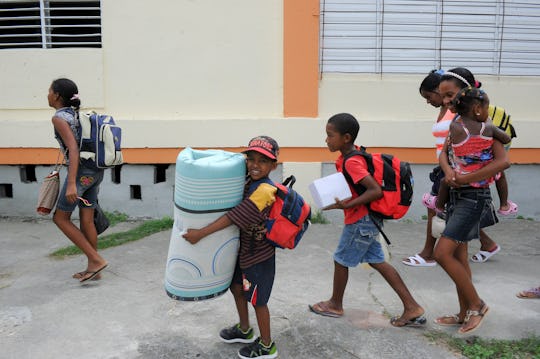 YAMIL LAGE/AFP/Getty Images
How To Help Hurricane Matthew Victims, Especially In Devastated Haiti
As communities across Haiti, Jamaica, and Cuba hunker down to weather Hurricane Matthew, they are also bracing for extensive damage and continued loss of life. The storm has already claimed at least four lives, the latest in Saint-Jean du Sud, Haiti, when a boat capsized out at sea, killing the fisherman inside. No where is more vulnerable to the looming natural disaster than Haiti. Here's how you can help Hurricane Matthew victims, particularly those in devastated Haiti.
Haiti is still reeling from a 2010 earthquake that killed 200,000 and left 1.5 million displaced and homeless, according to the International Business Times. There are still 55,000 people living in makeshift housing and tents across Haiti, and these people are in the most danger, according to The Weather Channel. Making matters worse is the threat of flooding and landslides as a result of deforestation, The Weather Channel reported.
"Some of us will die, but I pray it won't be a lot," Serge Barionette, who lives in the Haitian town of Gressier, told the AP, according to The Weather Channel.
1. Donate To Or Volunteer For The Red Cross
The organization has already made an announcement that it has resources in place to respond across central America and the Caribbean to help victims of Hurricane Matthew. In Haiti in particular, the Red Cross has the resources ready and waiting to respond to 3,000 people. Here's where you can donate to support those emergency services in response to Hurricane Matthew.
2. Donate To UNICEF
The charity said in a statement it estimates that nearly four million children will be at risk in Haiti as Hurricane Matthew pummels the island. Of particular concern is any potential damage the storm could cause to sanitation and clean water supplies, increasing the danger of a widespread outbreak of cholera, UNICEF said. The organization has emergency supplies in place for 10,000 people. UNICEF is taking donations to support its work saving children's lives in Haiti and across the world.
3. Donate To Mercy Corps, Which Has Volunteers On The Ground Now
The organization released a statement in response to Hurricane Matthew that it has 32 members on the ground in Haiti assessing the damage and is particularly concerned about the storm cutting off roads and flooding homes. Here's how you can donate to support Mercy Corps' work in Haiti in response to Hurricane Matthew.
4. Donate To MAP International, Which Will Provide Medical Supplies
Your donation to MAP International supports sending medicines and supplies to the victims of Hurricane Matthew in Haiti and beyond. The charity has already shipped enough supplies to assist 10,000 people for up to three months, a statement from MAP International said.
The people in Haiti need support — whether that's through donations or with on-the-ground volunteers.