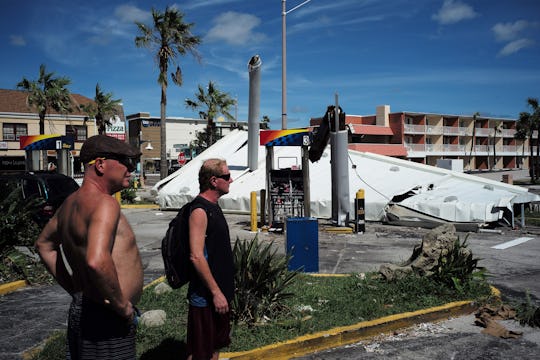 JEWEL SAMAD/AFP/Getty Images
How To Help Hurricane Matthew Victims In Florida, Because They Still Need It
Hurricane Matthew took it's sweet time making it up through the Caribbean and to United States' shores, but when it did make landfall, it destroyed everything in its path. If you're safe and sound (and dry), you're lucky. So here's how to help Hurricane Matthew victims in Florida, because they really need it.
It's easy to forget during a presidential election, with all the talk about being "stronger together" and "making America great," that in times of real crisis, Americans actually pull it together pretty well. We have each other's backs because a hurricane and a storm surge is nothing to mess around with. It could be anyone's house.
Already, the Internal Revenue Service is offering tax relief for Matthew's victims in North Carolina. The IRS is expected to offer the same extended deadlines and help in other states, too, as soon as FEMA does a damage check. Tax relief for individuals and small businesses is a huge help, for sure, but there are more immediate ways you can help families, the disabled, and even pets in the Florida region, where Hurricane Matthew really wreaked havoc.
If you're thinking of donating to those in Florida, you might also want to set aside a little charity for Haiti, too, which doesn't have the infrastructure that the Sunshine State has and was hit twice as hard. But really, anything you can do is useful.
Florida's First Coast Relief Fund
The United Way, Community Foundation for Northeast Florida and the Jewish Federation of Jacksonville have already donated $500,000 to this fund, which directly assists Florida residents affected by the storm. All you have to do is text STORM to 50503, mail a check made out to the Order of United Way of Northeast Florida to P.O. Box 41428, Jacksonville, FL 32203-1428 (make sure to note 'Florida's First Coast Relief Fund' on the check), or, even better: Just click right here to go to the online donation page.
American Red Cross
Seriously, the American Red Cross is a given — and for good reason. When bad things happen, they get right down to business. You can go to redcross.org, call 1-800-RED CROSS, or texting the word MATTHEW to 90999 to make a $10 donation. Just in case you don't have any cash to give, you can also donate blood by checking out the locations at redcrossblood.org or calling 1-800-RED CROSS.
World Vision
World Vision is working on the ground to help victims of Hurricane Matthew all over. They supply displaced families with the everything things they need to keep going. A donation of $16 provides an entire a personal hygiene kit with shampoo, soap, deodorant, a toothbrush, and few other essentials. A donation of $50 will go to help children and families, and an amount of $126 will feed a family that's been displaced — because a hot meal can do wonders to raise spirits.
Handicap International
You can donate to Handicap International, to help them serve the disabled affected by Hurricane Matthew. The organization assists victims by replacing lost mobility devices. They also help with storm-related injuries and with mental health issues. Handicap International also has volunteers in both the United States and in Haiti, so a few bucks could go a long way with them.
There are many organizations providing assistance for the victims of Hurricane Matthew in Florida and beyond. It's best to remember that cash is king, but always do some due diligence before you donate.