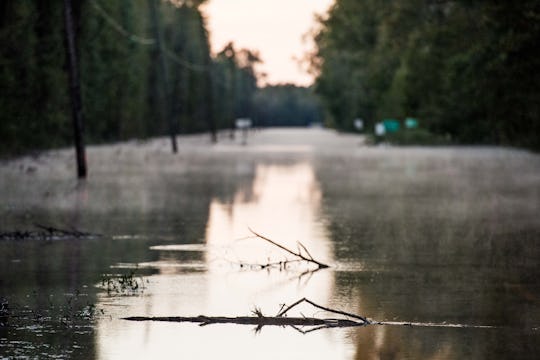 Sean Rayford/Getty Images News/Getty Images
How To Help Hurricane Matthew Victims In South Carolina
As Hurricane Matthew ripped its way through the United States, it left a trail of destruction in its wake in South Carolina. Before the Category 1 hurricane was downgraded to a tropical cyclone, it left three people dead in the state, felled several trees, and left downtown Charleston severely flooded. Coastal areas were evacuated, according to CNN, and over 800,000 businesses and homes lost power. While it seems the worst is over, floods remain and many have been displaced by the natural disaster. Luckily, there are several ways to help Hurricane Matthew victims in South Carolina, so the state can start on its road to recovery.
South Carolina Gov. Nikki Haley has requested major disaster declarations from the federal government, and said many affected parts of South Carolina had only just recovered from the floods in 2015. "We worked so hard to rebuild these areas and to see it all go back to that, it was devastating," Haley told The Post and Courier on Monday. "A lot of those people that were affected by the flood were re-affected, by what we've seen today, and we have new people affected."
According to NBC4, authorities in South Carolina said it was still too early to know the extent of the damage caused by Hurricane Matthew or what governmental aid will be available to its victims, but non-profit organizations are already moving forward with assistance. Here's how you can help them:
Donate Blood To The Red Cross
While blood may not be the first thing to pop into your mind after a storm, Hurricane Matthew forced the closure of around 40 Red Cross blood drives in the South, leaving more than 1,500 blood and platelet collections uncollected. Blood and platelets are always in demand, but will be especially necessary now considering the shortage in the South. Call 1-800-733-2767 or visit the Red Cross' website to book an appointment.
If you're squeamish about blood, there are other ways to help the Red Cross: consider make a donation to help the Red Cross house victims of the hurricane. So far, the organization has opened 61 evacuation shelters in South Carolina, housing more than 4,500 people, and supplied victims with food, water, and supplies (including everything from cleaning kits to insect repellent).
"Our first priority is keeping people safe," said Brad Kieserman, vice president of Disaster Operations and Logistics for the Red Cross, in a press release on Sunday. "We anticipate flooding may continue for days in the Carolinas and we are working with the entire response community to make everyone safely gets the help they need."
To donate, visit the Red Cross website, call 1-800-RED CROSS, or text MATTHEW to 90999 to make a $10 donation.
Volunteer Locally With The Red Cross
Same organization, different way to help out: the Red Cross needs volunteers to help it run shelters across South Carolina, so if you can help with registration, shelter setup, feeding, or information provision, sign up at the local Red Cross website or call one of their South Carolina branches. Volunteers will be contacted after applying.
Donate Food To Food Banks In The Area
If you're nearby, consider dropping off collected food items at food banks in South Carolina. The South Carolina Food Bank Association has delivered 2,600,000 meals since Hurricane Matthew struck, and their associated food banks are in need of provisions. To help out, go to the South Carolina Food Bank Association's website, find the closest food bank to you, and give them a ring to see what they need most at the moment.
Donate To These Charities
If you're able to donate money, there are plenty of worthy charities that are helping out in South Carolina. Here are a few to consider, aside from those mentioned earlier:
Watching a state go through a tragedy like Hurricane Matthew isn't easy, but it's at times like this that a little help goes a long way. If you can, donate to charities helping those in South Carolina, and roll up your sleeves to help out (to either give blood, for those far away, or to help out your neighbors, for those who are local).