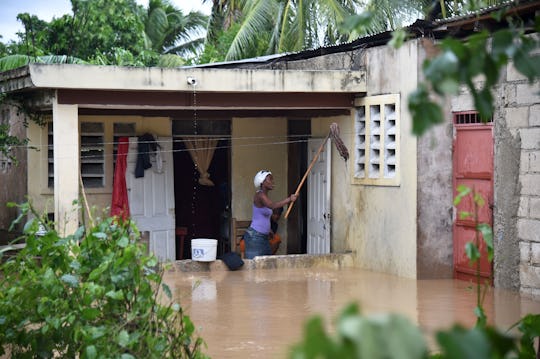 HECTOR RETAMAL/AFP/Getty Images
How To Help Hurricane Matthew Victims In The Bahamas, Because The Storm Is Devastating
Hurricane Matthew has been devastating to portions of the Bahamas, Haiti, and other parts of the Caribbean. For those who can, here's how to help Hurricane Matthew victims in the Bahamas. It's important to know how brutal this storm has been: more than 100 people have died in Haiti so far, and the storm has reached winds of 145 mph. For those who want to help but aren't able to contribute money, some of these organizations are providing everything from medical care to clothing for people who live in the regions that have been the most severely impacted.
One organization helping with relief efforts is the International Federation of Red Cross. "Our Red Cross teams in Jamaica, Haiti, the Dominican Republic and Colombia are currently running preparedness activities with the communities. Our volunteers and staff stand ready to respond immediately to the needs," Walter Cotte, regional director for the Americas at the International Federation of Red Cross and Red Crescent Societies, said in a press release.
The Bahamas Red Cross is helping Haiti's Social Public Services serve those in need. Three days worth of food for 6,000 people has also been prepared. Bahamas Red Cross provided ambulances and staff to remove people from areas most exposed to floods and landslides, and brought them to shelters. They will also be distributing emergency supplies. Here's where you can donate to the International Federation of Red Cross.
UNICEF will be making sure children and families in Haiti are safe, and that they will have access to clean water. Their website states that 90 percent of donations goes directly to helping children. You can donate to UNICEF's Hurricane Matthew relief efforts here.
CARE has been in Haiti as one of the country's largest humanitarian agencies since 1954, following a deadly hurricane that killed 1,000 people. Now CARE is preparing to make sure Hurricane Mathew doesn't repeat history.
"Hurricane Matthew could have devastating impacts in Haiti, as the country has not experienced a storm of this magnitude since 1954. The people of Haiti...will likely endure the shock of torrential flooding as a result of this storm," Jean-Michel Vigreux, CARE Country Director in Haiti, said in a press release. "The biggest needs following the storm will be clean drinking water as the anticipated flooding will contaminate the water supply." Donations to CARE can be made here.
The Salvation Army will be aiding relief efforts in Haiti, Jamaica, and across the Caribbean. It's currently helping to shelter 200 people in Kingston, Jamaica. You can donate to The Salvation Army's efforts here.
GlobalGiving will use donations to provide food, fuel, clean water, hygiene products, and shelter to those affected by Hurricane Matthew across the Bahamas. However, the organization also plans to help support rebuilding, as well as funding local relief organizations establish "stronger disaster-response capacity" so they are better prepared for future storms. The goal of GlobalGiving is to donate $1 million to these efforts. You can find more information here.
Catholic Relief Services will be distributing blankets and kitchen and hygiene kits across parts of the Bahamas most affected by Hurricane Matthew. They also will be monitoring "potential outbreaks of cholera and other diseases," according to their website. You can donate to them here.
Large charities aren't the only ones helping with relief efforts, either. The Man Dodo Humanitarian Foundation will be providing medicine, medical supplies, and importantly, doctors and nurses to Haiti's hurricane relief efforts.
"Haiti is not ready for [this storm]," Jeff Lozama, an organizer for the foundation who just recently visited Haiti, told CBS Miami. "The information is not getting to people fast enough for them to get prepared, to evacuate, for them to get to higher ground."
The organization is working with the Haitian American Nurses Association, the Haitian-American Doctors Association, and nursing students from Miami-Dade College who volunteered. The group is asking for donations of pain relievers, antibiotic pills and ointment, wound care supplies, baby formula and gently worn clothes. If you'd like to help you can call 305-912-1757 or you can drop off donations at 3333 NW 168th Street in Miami Gardens.