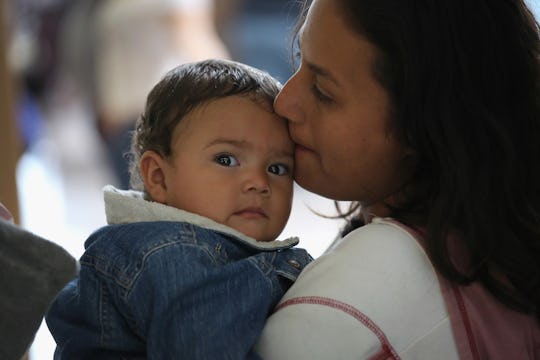 John Moore/Getty Images News/Getty Images
Here's How You Can Help Immigrant Children Separated From Their Parents
On the campaign trail, President Donald Trump promised to take a hard-line stance against undocumented immigration, and now, it's clear his administration is following through. But the introduction of his "zero tolerance" policy back in May has since led to thousands of children being separated from their parents as they attempted to cross the border. And the stories and images have caused mass outrage on both sides of the political divide. If you're wondering how to help immigrant children separated from their parents, the best option is to make your voice be heard — and to support organizations that can advocate on the children's behalf while we're waiting for the government to pay attention.
Although the president has long pushed for stricter immigration policies, Attorney General Jeff Sessions announced in May that the administration would begin aiming for "100 percent prosecution" of all individuals who attempt to enter the country anywhere other than at designated ports of entry, according to NBC News, and that the immediate detention of those individuals for prosecution would also mean any children they were traveling with would be taken away. While the policy of separating children from those being prosecuted for illegal entry is not new, the administration's dedication to drastically upping the prosecution rate is. And it's meant that a significantly higher number of parents are now crossing the southwest border with the intent of seeking asylum, only to find themselves immediately turned over to U.S. marshals, while their children are transferred to the Office of Refugee Resettlement.
Since Sessions' initial announcement, nearly 2,000 children have been taken from their parents after making their way into the United States, according to the Associated Press, with stories surfacing that, in some cases, children were being forcibly removed, or that they'd been taken without their parents' knowledge. In a June 15 report for Texas Monthly, Anne Chandler, executive director of the Tahirih Justice Center's Children's Border Project, told writer Katy Vine that, by her estimate on the ground, roughly 90 percent of parents being convicted for illegal entry are having their children separated from them, primarily because, under the Trump administration's ramped up approach, even first-time asylum seekers are being immediately charged with a criminal offense — something Chandler called "a pretty new thing for our country."
The idea behind the zero-tolerance policy, according to Sessions, is to address what he referred to as "a massive influx of illegal aliens across our Southwest border," primarily, according to NBC News, from Guatemala, Honduras, and El Salvador. By law, Sessions said that anyone charged with illegal entry "will be separated from [them]," yet, the solution, he said, was simple: "If you don't like that, then don't smuggle children over our border."
In theory, that might seem fair to some, but in practice, the reality isn't nearly as clear cut. That's because the policy prioritizes prosecution as a deterrent ahead of determining things like whether these families have a legitimate claim to asylum in the United States. And while they may be later able to make a case, they're still separated from each other in the meantime. What's more? While Sessions noted that the policy doesn't affect those who enter at legal entry points, Chandler told Texas Monthly that the legal entry points in some cases aren't actually accepting anyone. The result? Many of those families are coming into the country by boat illegally, making them eligible for prosecution.
More than anything though, it's the heartbreaking details of the separation policy that are truly hard to stomach. Chandler said that in some cases, parents have said they were simply told by officers that their children were being taken away because they've been charged with illegal entry. But others are reportedly not even told that much:
[The] officers say, 'I'm going to take your child to get bathed.' That's one we see again and again. 'Your child needs to come with me for a bath.' The child goes off, and in a half an hour, twenty minutes, the parent inquires, 'Where is my 5-year-old?' 'Where's my 7-year-old?' 'This is a long bath.' And they say, 'You won't be seeing your child again.'
As a parent of two 5-year-olds, imagining being in that position myself is excruciating — not only because it must cause unimaginable pain for the parents, but because of the fear and trauma endured by the children, who are left without the protection of the caregivers who were supposed to keep them safe. But at the very least, we can try to turn our pain into something productive:
Contact Your Representatives
One important way to help separated immigrant children is to contact your elected officials and let them know you do not support Trump's zero-tolerance policy. Democratic senators have already begun pushing back against the separation — on June 8, California Sen. Dianne Feinstein introduced the Keep Families Together Act, meant to prevent the Department of Homeland Security from taking children from their parents at the border — but prominent Republicans have also criticized the practice.
In a Washington Post op-ed Monday, former First Lady Laura Bush called Trump's zero tolerance policy "cruel" and "immoral," comparing it to the advent of Japanese American internment camps of World War II. Maine Sen. Susan Collins has called the separations "traumatizing" to the children taken away, according to CNN, and something that is "inconsistent with our American values." And in a statement released Monday, First Lady Melania Trump said she "hates to see children separated from their families" and believes that the nation should "govern with heart" — though she stopped short at implying that the situation had anything to do specifically with her husband's administration.
Make A Financial Donation
Beyond that though, there are a number of organizations on the ground that could use additional public support, including:
Alternatively, you can also contribute to ActBlue, which will divide all donations equally among eight advocacy groups, including La Union Del Pueblo Entero, Kids in Need of Defense (KIND), the Women's Refugee Comission, and the American Civil Liberties Union (ACLU).
Donate Your Time & Expertise
Have legal expertise? ProBAR is in need of attorneys, law students, legal assistants, and interpreters to volunteer to help. And there is also always a need for those willing to be caring, responsible foster parents: more information can be found via the Catholic Charities of the Archdiocese of Galveston-Houston, or through LIRS' foster parent page.
Immigration is a complicated issue, and it's understandable that there will be much disagreement over the best way to handle it. Yet it also seems pretty evident that causing unnecessary and preventable trauma to innocent children can't possibly be the best option — especially when it could be stopped by the current administration.
There is nothing that isn't heartbreaking about the separation of immigrant children from their parents, but there are ways to help. And those of us who are lucky enough to not have to worry about having our children taken from us can easily take some steps to help those who are currently living every mom and dad's worst nightmare.