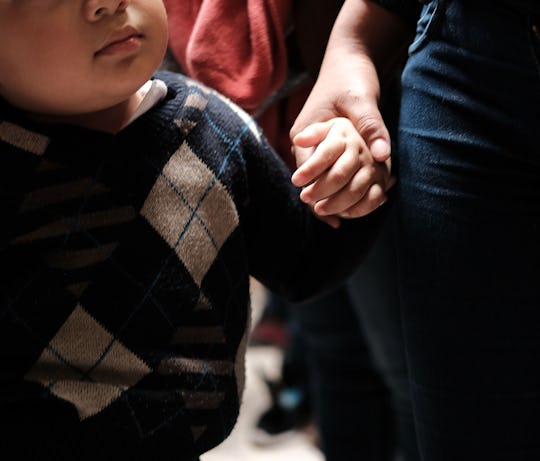 Spencer Platt/Getty Images News/Getty Images
As ICE Raids Loom, Here's How You Can Help & Support Immigrant Families
Amid what many consider to be a mounting humanitarian crisis at the southern border, the U.S. Immigration and Customs Enforcement (ICE) is expected to conduct mass raids across several cities this weekend. As such, many immigrant rights advocates are working to share vital messages to ensure undocumented migrants know their rights. But there are also ways concerned citizens can help immigrant families during the ICE raids.
The New York Times reported on Thursday that the raids are scheduled to start on Sunday, July 14, which President Donald Trump confirmed on Friday. According to CNN, ICE is reportedly planning conduct raids in 10 big cities across the United States in an effort "to arrest and deport undocumented immigrants" currently living in the United States.
With the goal to arrest and deport, many are concerned the raids will lead to even more family separations. "Cruelty does not make America safer," Sen. Dick Durbin wrote on Twitter on Thursday. "Mass arrests and deportations are only going to create fear in communities across the United States & separate more families & children. We are better than this."
Similar worries and fears surfaced last month; in late June, the Miami Herald reported that immigration officials were planning a "deportation crackdown," but Trump later tweeted that those plans had been stalled. "At the request of Democrats, I have delayed the Illegal Immigration Removal Process (Deportation) for two weeks to see if the Democrats and Republicans can get together and work out a solution to the Asylum and Loophole problems at the Southern Border," he tweeted on June 22. "If not, Deportations start!"
With reports of mass raids and subsequent deportations looming at the moment, there are few ways you can help and support immigrant families right now.