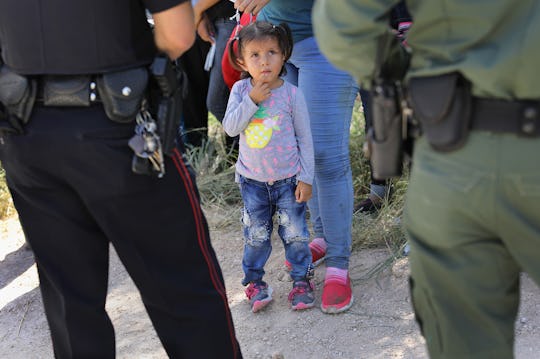 John Moore/Getty Images News/Getty Images
This Is How You Can Help Immigrant Families Released From Detention Centers
Earlier this month, hundreds of asylum-seekers in detention centers in Arizona were suddenly released, with U.S. Immigration and Customs Enforcement's (ICE) claiming that the growing number of immigrants arriving at the United States border is exceeding the amount of space they have to actually detain them. Non-profit groups were left scrambling to help immigrants find a safe place to go, according to The Houston Chronicle, but on Thursday night, Texas immigration non-profit RAICES announced that the government was set to release "thousands" more families. The mass release is likely to overwhelm the groups working to keep them safe, so here's how to help immigrant families released from detention centers to ensure they're able to find shelter.
In a Twitter thread posted on Thursday night, RAICES reported that the en masse release of immigration detainees is about to place a huge burden on groups fighting to help them, as it will mean that they'll be left to figure out housing and transportation for families who will essentially be left on their own with no plan for their next steps. And, well, that already seems to be happening.
According to NBC News, when immigrants in Arizona reportedly began to be released suddenly, it happened "without warning," and the people let go allegedly weren't given any assistance to find a place to sleep, or transportation to reach friends or relatives who may be able to help.
That meant that non-profit groups were left renting out motel rooms to accommodate the massive increase, according to The Houston Chronicle, and now, churches and shelters in El Paso, Texas and San Diego, California, are bracing themselves for influxes in their cities, where officials have told them to anticipate more than 1,000 immigrants just this week alone.
Of course, releasing these families is still preferable to leaving them detained long-term, but immigration rights advocates are concerned that they're been let go so suddenly — and some are also wondering if it's a political ploy.
RAICES, for one, noted that with midterm elections around the corner, "this timing isn't a coincidence," while an Arizona pastor told AZ Central he felt it was mostly a way for the government to "control a narrative about a crisis along the border that doesn't exist." Rev. Ken Heintzelman — whose church, Shadow Rock United Church of Christ, has been providing shelter to released immigrant families — told AZ Central said that by releasing thousands of immigrants suddenly, the government is able to suggest that "we are being invaded by all these unwanted despicable people," and that they should vote in favor of increased border control.
What does seem clear, at least, is that ICE is no longer reviewing each immigrant's travel plans prior to release as it was previously, according to NBC News, meaning that they are now arriving at shelters with no idea of what their next step is supposed to be. In a statement to NBC News, ICE spokeswoman Yasmeen O'Keefe said the agency was limited by the Flores settlement, a federal court agreement that limits the amount of time children can be detained. Yet, as far as RAICES is concerned, the priority now is ensuring the influx of immigrants have somewhere to go.
On Twitter, RAICES noted that a similar situation occurred in San Antonio, Texas in 2016, when 500 were suddenly released by ICE without warning. RAICES said, "within days we got hundreds of people on buses, planes and into safe houses," and that it plans to do the same this time around. Those wanting to help the effort can send a donation to the organization directly.
Since the burden will fall pretty much entirely on the shoulders of non-profits in border cities, there are a number of other organizations who could certainly use some support. To name a few, they include:
Then, there are the shelters themselves, who are in need of financial donations, and likely also volunteers. Shelters helping released immigrants include:
Politically, the issue of immigration may be complex, but the individuals and families seeking asylum are also real people who have the same need for shelter, food, and safety, just like anyone else. And with thousands of them reportedly set to be released, it's clear they need all the help we can give them.