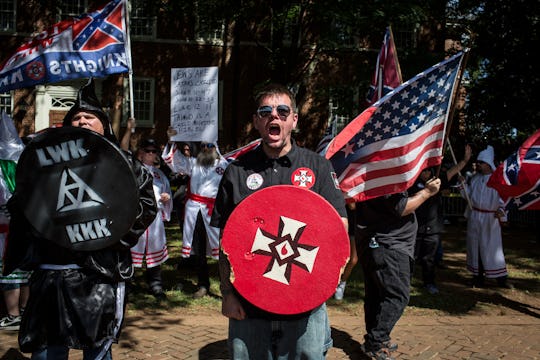 Chet Strange/Getty Images News/Getty Images
This Just Might Be The Best Way To #Resist The Hate In Charlottesville
On Friday night and Saturday morning, white supremacists flooded the University of Virginia and Charlottesville, Virginia, respectively. Virginia Gov. Terry McAuliffe declared a state of emergency even before the "Unite the Right" rally began in Emancipation Park, where the state had recently removed a confederate statue. Later in the afternoon, a car plowed through a group of counter protestors, killing one person and injuring 19 people. For almost two days, there has been a horrifying display of white supremacism and nationalism in Virginia. So what can people do to help in the wake of the Charlottesville protests?
It can feel almost impossible at times, but there are small steps people can take to resist and enact change in their communities and demand that others, especially politicians, pay attention to the rise of white supremacy in America. In the wake of the white nationalist violence on Saturday, Donald Trump skirted the issue with a a statement on Saturday saying:
We condemn in the strongest possible terms this egregious display of hatred, bigotry and violence on many sides, on many sides. It has been going on for a long time in our country — not Donald Trump, not Barack Obama. It has been going on for a long, long time. It has no place in America.
Even the president won't step forward and properly denounce white supremacist groups, many of which endorsed him in the 2016 election. But Americans can be better than that.
Here are a few ways to stand up and resist.
Donate To Organizations That Help Minorities
If you can't protest, donating to organizations that support the black community and other marginalized groups is a good place to start. You can donate to the National Association for the Advancement of Colored People (NAACP). The local Charlottesville, Virginia NAACP chapter will take PayPal donations. In addition to that, you could make a cash donation to Charlottesville Pride, which serves the LGBTQ community there.
There's just one synagogue in Charlottesville, but you can show solidarity against neo-Nazis by making a donation to their congregation there, too. As always, a donation to the American Civil Liberties Union (ACLU) never hurts.
Attend Protests & Meetings
Nothing shows that you don't stand with white supremacists than getting out and counter protesting. Attend Black Lives Matter protests, pro-immigration and LGBTQ rights protests, resist travel bans, and every single gathering you can think of to support civil rights for all Americans. Here's a new rule: When they bring torches, you march.
You can also organize in your communities and support political candidates that will fight for the rights of marginalized communities right in your hometown. And nationally — don't forget those mid-term elections next year.
Shop Black & Minority Owned Businesses
Find businesses owned by minorities and support them. Hard. It's the most grassroots way to support communities that suffer from racial and economic inequality. Help people thrive.
Use the Right Words
This one is dedicated to all the white people out there: Language matters. Call people out when they mistake "protestors" for "white nationalists" or "domestic terrorism." Don't be complicit and let friends, family members, politicians, or even media organizations use the wrong language to describe what's happening. There are not "many sides" to what happened in Charlottesville this weekend.
It's not impossible to resist white supremacists and support all Americans' civil rights. But it does mean actually getting up and doing something about it.