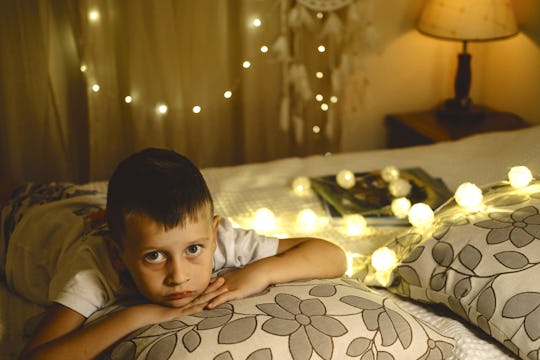 Boiarkina Marina/Shutterstock
Here's How To Help Your Child Cope With Social Anxiety During The Holiday Season
For many children, the holidays are the best time of the year. There are countless holiday parties, big extended family dinners, special religious ceremonies, parades, cookie exchanges, and so much more to look forward to. For other children, this flurry of activities sets off the alarm bells. Big crowds and unfamiliar faces can be incredibly uncomfortable and even scary, and they can zap the cheer right out of the holidays. That's why it's so important to understand how to help your kids deal with social anxiety during the holiday season, so they can enjoy (and not dread) this special time of year.
If you're the parent of a child with social anxiety and you've never experienced anxiety yourself, it can be a confusing thing to navigate. As you head into the holiday season and start preparing for the festivities to come, it's crucial to remember one thing: mental health is every bit as real and important to prioritize as physical health. Because children often can't always verbalize their own anxiety, it can manifest itself in frustrating ways, like tantrums, crying, restlessness, and hyperactivity, according to Anxiety.org. However, it's so important to remain patient and compassionate with your child. Just as you wouldn't punish a child for having a sore throat or developing a cough, they shouldn't be punished for their anxiety.
There are a few different ways to minimize the social anxiety and stress that holiday festivities can bring. First, consider your family's schedule each day. While it may seem fun to plan a packed day of breakfast with friends, a trip to the zoo, lunch at your family's favorite restaurant, and then a Christmas party at the neighbor's, this go, go, go schedule can be overwhelming and confusing for a child with anxiety, Janet Spaulding, a licensed licensed marriage and family therapist told EachMindMatters.org. Make sure to make time for more relaxed, quiet activities in each day so your child has a chance to slow down and regroup, urges Spaulding. This doesn't necessarily mean they need to sit alone in their room; instead, consider planning low-key, one-on-one activities at home, like baking cookies or watching a holiday movie.
Another major way to reduce your child's anxiety is to simply keep them in the loop about what to expect at different holiday events. My helping your child visualize and prepare for what's to come, they're less afraid of the unknown. "One of the most effective things you can do is arm your child with as much knowledge as possible about the event," according to an article by the Child Mind Institute. "Go over where it will be, who will be there and what might happen. Scripting, role-playing and previewing are all excellent tools for the socially anxious kid."
And because knowledge is power, naming your child's social anxiety and teaching them more broadly about social anxiety can also be incredibly beneficial for them. Anxiety Canada, a charitable organization dedicated to promoting awareness of anxiety disorders, encourages teaching children all about the very thing they're experiencing. "Teaching your child that the worries and physical feelings she is experiencing have a name – anxiety – and that millions of other people also have anxiety, can be a great relief," explains the organization on their website. Explain that their emotional and physical symptoms are not unusual, and empower them to speak up when they start to feel them, the organization also advises. By opening lines of communication, you're allowing your child to stop suffering in silence, and to speak up to a trusted family member when they start to feel out of control.
When your child conquers anxiety-provoking situations and faces their fears, it's imperative that you offer them praise and positive reinforcement. The Anxiety and Depression Association of America (ADAA) encourages parents to "recognize and praise small accomplishments" so that your child understands you recognize their bravery and you're proud of them. On the flip side, the ADAA also states that parents should not "punish mistakes or lack of progress." Overcoming anxiety is a series of baby steps, and children should feel supported and safe as they navigate their experience.
Finally, it's important for both parents and children to seek professional help when dealing with social anxiety. "If social anxiety disorder negatively affects your child's ability to attend school, socialize with peers in or out of school, or affects other areas of functioning, it's time to seek an evaluation from a licensed mental health professional," states online mental health resource PSYCOM.net. Trained professionals can equip your child with effective coping mechanisms and new ways of thinking that can help them overcome their social anxiety, making holidays and life in general much easier.
Social anxiety is a scary thing, and it seems to reach peak levels during the busy, often chaotic, holiday season. Anxiety can hijack your body, distort your thoughts, and make seemingly "normal" situations feel downright terrifying, and for a child with no understanding of what's going on, it's even worse. With a little compassion, patience, and knowledge, you can help your child handle – and even enjoy – this magical season.
This first-time mom wants to have a home birth, but is she ready? Watch how a doula supports a military mom who's determined to have a home birth in Episode One of Romper's Doula Diaries, Season Two, below. Visit Bustle Digital Group's YouTube page for the next three episodes, launching Mondays in December.