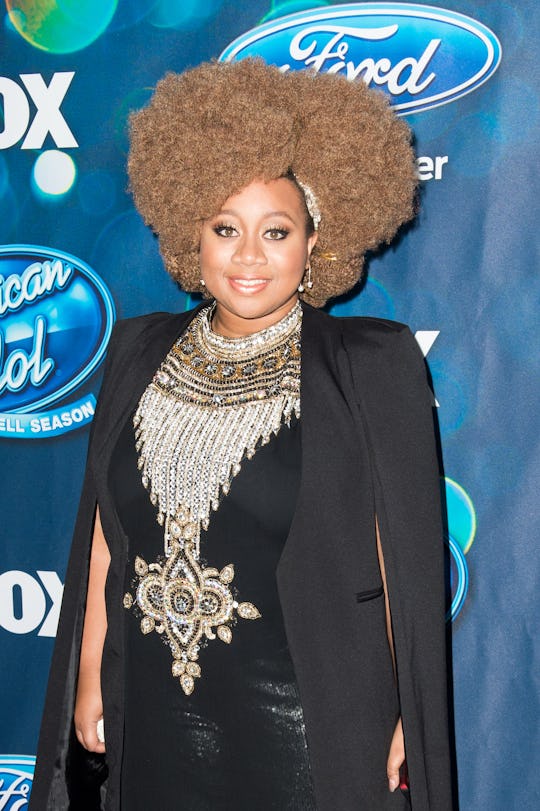 Emma McIntyre/Getty Images Entertainment/Getty Images
How To Help La'Porsha Renae Win 'American Idol' Because She's So Close To The Title
After 15 seasons of launching some of the biggest names in entertainment, American Idol is finally bidding farewell to its fans. The singing competition that started the careers of so many huge names in entertainment is adding just one more to the list, and fans will get the last say on who will be launched into mega-stardom. Of course, all three finalists are incredibly talented, but there's one performer whose voice and presence stands far and away from the others: La'Porsha Renae. The 22-year-old from Mississippi has an amazing voice and a compelling story. So for those wondering how to help La'Porsha win on American Idol, you're not alone. I'll admit, I'm hooked, too.
Renae worked at a call center in McComb, Mississippi, before auditioning for Idol, according to the Washington Post. According to that report, the young woman survived domestic violence and homelessness before finding her way to the Fox stage. Now, Renae and her incredible voice have taken over the competition and even former contestants are in awe. Idol's first-ever winner, Kelly Clarkson, tweeted after watching Renae's performance on Feb. 10 that "if @LaporshaRenae doesn't win Idol there's something seriously wrong w/America!" Clark continued, "I mean, goodness! I stood up [in] my house, that's right!"
The Idol competition is down to just three contestants — Trent Harmon, Dalton Rappattoni, and Renae — and watching which of the fan favorites will be the very last American Idol is going to be pretty exciting. The good news is that Renae fans have plenty of ways to show their support. According to Heavy.com, fans actually have five ways to vote in American Idol 2016. Here is how Renae fans can help her win American Idol and end the blockbuster show on a well-deserved high note:
Support La'Porsha Using Facebook's SuperVote
For fans who might be "sharing" the excitement of Idol's last moments with their Facebook friends, it's pretty easy to cast votes using the social media platform. Just log into Facebook.com, then head to the American Idol XIV Facebook page at www.Facebook.com/American Idol. From there, SuperVote allows fans to cast up to 10 votes per contestant and share their choices on Facebook and Twitter.
Vote For La'Porsha With The Fox Now App
Fans who might be watching on a tablet or handheld device can download the Fox Now app to watch the show and to cast their ballots. Bonus: voters don't need a Fox Now account to cast ballots this way, according to the American Idol website, just a valid Facebook account.
Text Your Vote For La'Porsha
Of course, with a phone in hand, it's easy to just text La'Porsha's contestant number to 21523, according to Heavy.com. Contestant numbers are posted on-screen during the broadcast, and are given out via the contestant's Twitter accounts. So, to get the right number to cast final votes, it'll be important to keep an eye on La'Porsha's Twitter account, @LaporshaRenae and the official American Idol account, @AmericanIdol.
Ask Google To Help You Vote For La'Porsha
Here's a pretty cool feature: viewers with a Google account can head over to the search engine and type the words "American Idol vote" or "Idol vote." That search will automatically prompt a Google Voting Module with photos of each of the contestants.
Dial In Your La'Porsha Vote The Old-Fashioned Way
And for those of us less adept at all the high-tech stuff, there's still a very simple way to cast American Idol ballots: just phone it in. During each voting show, toll-free numbers for each contestant flash on screen so viewers can call and cast their ballots. Couldn't be simpler.
I know that loyal fans have been crying over the news of Idol's finish for some time, but others among us — myself included — have been a bit late to the uproar of the show's last season. But the good thing about the show's design is that even latecomers can have a say. So for all those just now realizing that American Idol is about to launch the next world's next superstar: take heart and, remember, every vote counts.