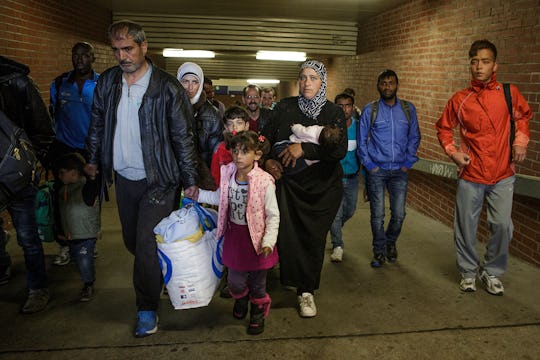 Carsten Koall/Getty Images News/Getty Images
How To Help Kids Affected By The Immigration Ban
Just two days after President Trump signed an order calling for a ban barring travel to the United States from seven Muslim-majority countries, there has been a lot of confusion in airports across the nation, with families and individuals being detained or turned away at the gate, including those here legally, or those returning from travel overseas. This has spurred thousands of people to gather at airports to protest the order and demand the release of those who might be detained. In addition to protesting, there are other ways for those looking how to help parents and kids affected by the immigration ban.
The order is still young, which is the cause for some of the confusion at the airports, according to CNN. Administration officials were not immediately sure which countries citizens would be barred from entering the United States, according to CNN, with some people from these seven countries being detained and others being sent on return flights to their home country. It is reported that green card holders from these seven banned countries are being allowed into the United States on a "case by case" basis.
According to CNN, this temporarily bans 218 million people from entering the United States. So many stories have already emerged of families being split apart and people being affected by this ban, and it's spurring many to act in support of them.
For those seeking ways to help, there are a few things that people can do in these early days of the ban, even before a clearer picture emerges.
Donate Money
The American Civil Liberties Union is the group responsible for getting a temporary stay on the order in a federal court (though it might now last). Without the ACLU's lawsuit, willingness to help, and representation at airports across the nation on Saturday, many of those detained may be left stranded for an unknown amount of time. Donate any amount of money to the ACLU here to ensure that they can continue to fight the ban and fight for the rights of the immigrants in the United States. Celebrities like singer Sia have already vowed to donate money to the ACLU to help this fight.
The Council on American Islamic Relations is also accepting donations to help continue to fight for the civil rights of refugees. Donating any amount of money to these organizations could help immensely to help the families affected by the ban.
Contact Your Representatives
It is incredibly important to contact your senators and representatives and let them know that you're not happy with Trump's latest decision or its impact on children, parents, the elderly, even small infants, all of whom are stuck inside airports across the country. This upcoming week is when Senate will confirm the rest of Trump's cabinet — let them know what you think about Trump's picks. If Senate confirms Trump's cabinet this could mean four more years of executive orders like the immigration ban, with no pushback from Trump's inner circle; Given that Trump will likely name his Supreme Court pick as well, the timing here is crucial.
Let your senators know that you do not tolerate the immigration ban and would hope that they take a stand against the order. Websites like 5calls provide numbers for representatives and scripts to make this call easier.
Protest
Many of these refugees and immigrants, specifically the young children and infants, have no voice to lend in their own defense, and are unable to speak up when in trouble. This is where you come in.
Currently, protests are happening all over the nation. People have come out en masse this past weekend, and it's likely that protests will continue to happen throughout the week. By showing up to these protests, you are making yourself and your voice visible — showing politicians that there is strength in numbers and that the rights of refugees, their families, and their children will not be swept under the rug.
In the early stages of this immigration ban, it sometimes feels as if there's only so much you can do to help. But even the smallest shows of activism matter and can do so much, and where families and children are involved, any gesture counts more than you realize, and can give comfort to the defenseless.