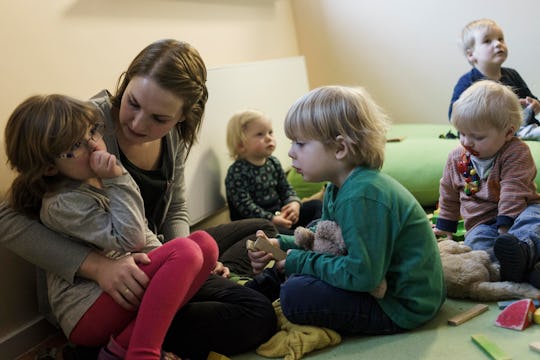 Carsten Koall/Getty Images News/Getty Images
How To Help Parents Who Can't Afford Childcare
Face it: Kids are incredibly expensive. Any parent will tell you that. Thankfully, there are ways to remedy that and at least a few public figures who are pledging to help. Take Democratic front-runner Hillary Clinton, for example, who wants to help parents who can't afford childcare. At a meeting with supporters in Louisville, Kentucky last month, Clinton called for a plan that would ensure that no family ever has to spend more than 10 percent of income on childcare, through a series of subsidies and tax credits. This is a huge deal, especially for low income families who currently spend 49.5 percent of their income on childcare, according to a 2012 study from the Center for American Progress.
"It's time to face up to the reality of what family life is like today and to support families," Clinton said at the gathering on May 10, which was held inside a childcare facility. "... Donald Trump actually stood on a debate stage and argued that Americans are being paid too much, not too little. With somebody like Donald Trump you would see a race to the bottom in this country with working families paying the price."
Clinton noted that the job of being a parent shouldn't be complicated by Trump's plans. "[I want to] reject that vision and come up with a much more positive one for families and children," Clinton said. "... It just doesn't make any sense ... It's the most important job that any of us can do, and we're making it really hard and really expensive."
In fact, she's not wrong: Sending an infant to a child care center year round costs more on average than four-year public colleges in most states, according to the aforementioned Center for American Progress study.
While we may be years away from such a policy as Clinton has suggested, there are ways we can act right now to make a difference. Here are five concrete steps you can take to help men and women who can't afford childcare foot the bill.
Pay Women More
This one is simple. Women still only make 81 cents for every dollar a man makes. They also take on more responsibility for child care than men. Lower wages force many women to chose between having a career and ensuring their children are safe and cared for. Equal wages benefit all families.
Promote Flexible Childcare Policies In Your Workplace
Several companies, like Etsy, are creating kid-friendly offices, complete with toy boxes and black boards. Not only do these spaces allow working parents to keep the little ones busy while they put in their hours, they send a message that families fit in to the company's work culture.
Support Work From Home Policies
Email and video conferencing have made telecommuting easier than ever before. While working from home may not eliminate the need for childcare for families with infants, it can give families enough flexibility to reduce costs and spend more time with their kids.
Help Out The Families In Your Life
You've seen them. The weary-eyed new parents at the family dinner table and that exhausted friend trying to talk her toddler out of yet another tantrum. They could probably use a night off. Let them know you're there to help. While it's not a permanent solution, a date night at the movies or a few hours to run some errands could be just the support they need.
Create A Neighborhood Childcare Exchange
The rising cost of childcare has families turning to unexpected sources for help. Childcare exchanges, where families take turns caring for several children at a time so the other parents can have some time off, are becoming increasingly popular. For families with non-traditional work schedules, or those who need a few hours away from their kids, babysitting circles can provide a cheap alternative to a sitter.
There are plenty of ways to pitch in and help with the rising cost of childcare — whether by donating time of your own or speaking up for equal pay. The most important thing, above all else, is to simply act.