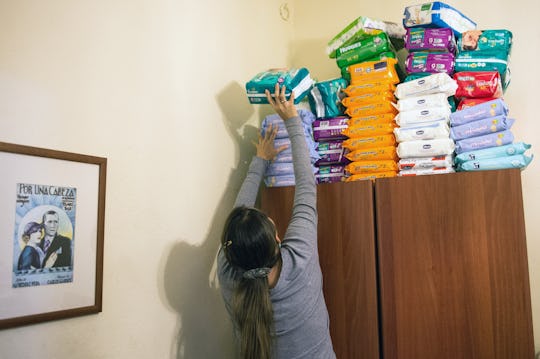 FEDERICO PARRA/AFP/Getty Images
How To Help Parents Who Can't Afford Diapers, Because It's A Costly Necessity
They're not something you think about often, unless you have difficulty getting your hands on them, but diapers can be a surprising strain on parents in lower-income families. According to The Atlantic, infants go through approximately 240 diapers a month, and a year's supply can cost up to $936 — 6 percent of a single parent's wage if they work full time and earn minimum wage. Being unable to buy diapers was a leading cause of mental health problems for new moms in 2013, but luckily, others can ease the burden: here's how to help parents who can't afford diapers.
There are several systems in place to help parents struggling to afford diapers, but nearly one in three mothers often lack the diapers their children need. Diapers often aren't included in anti-poverty programs like Medicaid, the Supplemental Nutrition Assistance Program (SNAP), or the Special Supplemental Nutrition Program for Women, Infants, and Children (WIC). According to a 2013 Pediatrics study, the strain of diaper costs can lead parents to unhealthy practices: they may leave diapers on their children for longer than they should, which increases both the children's likelihood of urinary tract infections and diaper dermatitis and the parents' risk of mental health problems. By providing low-income families with access to diapers, there's less of a risk to children's health and their parents' mental health.
In March, the White House announced a new initiative to get more diapers into the hands of low-income families. Working with corporations like Huggies, the Honest Company, and First Quality, the government is helping increase the number of diapers available to non-profits that provide families with much-needed diapers. While this is a step in the right direction for providing families with the support they need, there's plenty of places where you can lend a helping hand right away.
If you have time on your hands, you can help out by working with the National Diaper Bank Network, which connects more than 275 community-based diaper banks across the United States. Help by holding a diaper drive or volunteering as a distributor at a local diaper bank. You can also spread the word by sharing information on the diaper gap and tagging it #DiaperGap.
If you work with a non-profit organization, you may be eligible to work with Jet to get discounted, wholesale diapers into the hands of families. If your non-profit has the space, desire to help, and time, sign up with Jet to help get diapers to families nearby who need them. If you're not part of a non-profit organization, you can still buy wholesale, affordable diapers and distribute them to organizations or families in need.
If you're low on time but would like to make a steady contribution, there's a few organizations where your dollar will go a long way when it comes to helping families. If you're already buying diapers for your little one, you can donate your Huggies points to their Every Little Bottom initiative. You can also fund local diaper banks through Jet and the National Diaper Bank Network on a one-off or monthly basis, or you can donate directly to a diaper bank in your community.
There's ways to end the diaper divide, and parents and children across the United States will be better for it. Concerned parents can spread the word and help out wherever possible — and every diaper helps.