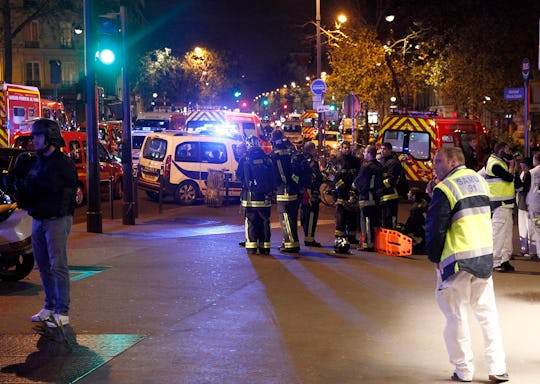 Thierry Chesnot/Getty Images News
How To Help Paris Victims After The Terrorist Attack
In the immediate aftermath of the attacks on Paris Friday night, Parisians used the hashtag #PorteOuverte, meaning "open door," to offer save haven to victims and anyone else stranded. But how can you help the Paris victims if you're not in France? As more details about the coordinate terrorist attack in Paris Nov. 13 have been released, the need for relief has only become more urgent.
The initial report of a shooting in the restaurant Cambodge was quickly followed by reports of shootings and explosions at several locations, including the Stade de France stadium. Over 80 were killed in the Bataclan concert hall. CNN now puts the Paris death toll at over 120, and the city is in a state of emergency. ISIS has claimed responsibility for the attacks.
The fact that the attacks targeted innocent civilians in non-government venues make these attacks particularly alarming. Ten months ago, Paris was traumatized by terrorist attacks at the offices of Charlie Hebdo.
In the aftermath, Parisians showed empathy to each other. Taxi drivers offered free rides, and the #PorteOuverte hashtag used social media to offer those in need immediate haven.
So too was the effort made by Parisian taxi drivers who turned off their meters to get people home.
Now the rest of the world can follow suit. If you're not in Paris, you can help by donating to the following organizations
The Red Cross is an organization According to a statement on the American Red Cross website Friday night, 300 Red Cross volunteers have been deployed in Paris in response to Friday's attacks. While the American Red Cross is not currently soliciting donations to help the situation in Paris, you can donate to the International Red Cross here.
Secours Catholique Caritas France is a relief organization that offers aid during state emergencies and crises. You can donate to Secours Catholique here.
An organization of restaurants that provide food to those in need. You can donate to Restaurants du Coeur here.
Also known as the "People's Red Cross," this French nonprofit that provides a emergency housing and crisis management. You can donate to Secours Populaire Francais here.
President Obama expressed both outrage at extremist violence and sympathy for the victims of today's horrific events, calling them an "attack on humanity" and paying homage to a country the U.S. and its founding members drew inspiration from, saying, "Paris itself represents the timeless values of human progress. American people draw strength from the French people's commitment to life, liberty and the pursuit of happiness." Fortunately, there are ways to give back.