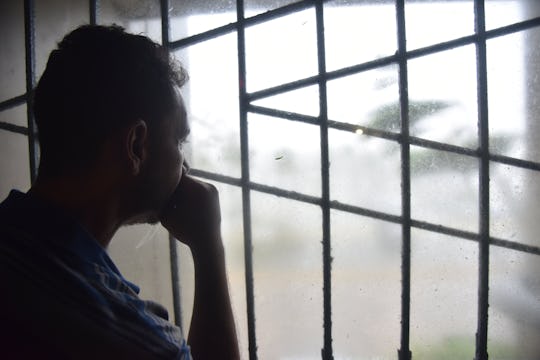 HECTOR RETAMAL/AFP/Getty Images
How To Help Puerto Rico After Hurricane Maria Ravaged The Island
Less than 10 days after Puerto Rico narrowly avoided the wrath of Hurricane Irma, the 3,500-square-mile island territory took a direct hit from Hurricane Maria as a Category 4 storm in the early hours of Wednesday. The massive storm has completely engulfed the island of Puerto Rico, slamming the island with winds in excess of 155 mph. Puerto Rico was already facing a looming economic disaster after declaring bankruptcy in May, and the natural disaster of such a monster hurricane will only add to Puerto Rico's financial crisis. Here's how to help Puerto Rico after Hurricane Maria tore through the island on Wednesday.
Maria has come just days after Puerto Rico welcomed Caribbean refugees from neighboring islands devastated by Hurricane Irma. As of Wednesday morning, Puerto Rico was still being battered by life-threatening winds from Maria as the hurricane sits squarely over the island; it could not have taken a more direct hit. Hurricane Maria is the first Category 4 storm to make landfall over the U.S. territory in nearly a century, after an unnamed Category 4 hurricane devastated Puerto Rico in 1932.
Hurricane Maria is expected to dump historic amounts of rain and wind over Puerto Rico through Friday, according to the National Hurricane Center. But even before the hurricane moves off-shore, there are already ways that you can help the victims of Hurricane Maria in Puerto Rico.
Unidos Por Puerto Rico/United For Puerto Rico
Created by the the office of Puerto Rican first lady Beatriz Rosselló, Unidos Por Puerto Rico is already mobilizing just as fast as it can to assist victims of Hurricane Maria. You can donate online, by phone, or by text at its website.
Maria & Irma: Puerto Rico Real-Time Recovery Fund
Organized by ConPRmetidos, a Puerto Rico-based "think and do tank" working to stem the territory's economic and social challenges, this fundraising campaign is hosted through IndieGoGo's Generosity platform for supporting social causes. ConPRmetidos notes that funds from its Puerto Rico Real-Time Recovery Fund campaign will first be used to support immediate relief efforts, including shelter, food, and water, and then be utilized for long-term recovery efforts.
Puerto Ricans In Action Hurricane Relief Fund
Based out of Los Angeles, California, Puerto Ricans in Action has partnered with a number of local relief and charity organizations on the ground in Puerto Rico to provide disaster relief in the wake of Hurricanes Irma and Maria. Online donations to the Puerto Rico Hurricane Relief Fund are administered through the GoFundMe platform, but can be made at the Puerto Ricans in Action website as well.
Hurricane Maria Children's Relief Fund
Save the Children has already created a dedicated Hurricane Maria children's relief fund for Puerto Rico. You can place your donation online securely, where 90 percent of funds will be used to directly assist children and families affected by Hurricane Maria. The remaining 10 percent of your donation will go into Save the Children's general children's emergency relief fund.
Caribbean Hurricane Maria & Irma Relief Fund
Organized by GlobalGiving, the Caribbean Hurricane Maria and Irma relief fund is an effort to collect funds to assist on a broader level of relief and recovery operations for all islands affected by both Hurricanes Maria and Irma. You can even set up a monthly donation, as hurricane recovery within the Caribbean region will likely take months.
Mercy Corps Humanitarian Response Fund
Like other organizations such as the Red Cross and Americares, Mercy Corps is a non-profit organization with members specially trained in disaster relief. You can contribute to its Humanitarian Response Fund online as it provides assistance and recovery efforts in regions affected by Hurricane Maria, as it has for Harvey and Irma.
As the storm passes, the full devastation wrought by Hurricane Maria on Puerto Rico remains to be seen — but if initial photos and video of Hurricane Maria tearing through Puerto Rico are any indication, the island U.S. territory will undoubtedly be left with major clean up, rescue, and recovery operations for a long time to come — and we need to step up and help our Caribbean neighbors as much as we can.
Watch Romper's new video series, Romper's DoulaDiaries:
Check out the entire Romper's Doula Diaries series and other videos on Facebook and the Bustle app across Apple TV, Roku, and Amazon Fire TV.