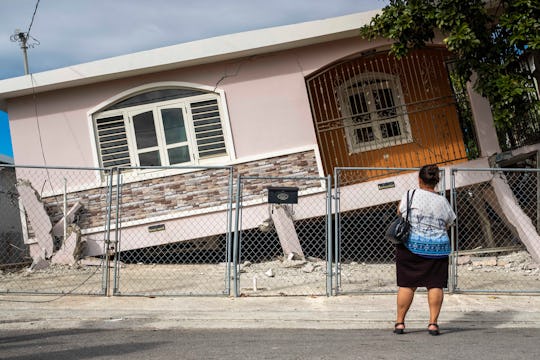 RICARDO ARDUENGO/AFP/Getty Images
As Puerto Rico Recovers From Ongoing & Strong Earthquakes, Here's How You Can Help
The governor of Puerto Rico declared a state of emergency on Tuesday after a 6.4 magnitude earthquake shook the island, leaving the island without power and at least one person dead. Tuesday's tremor comes just one day after a 5.8 magnitude quake caused significant damage to roads, buildings, and other infrastructure. While a series of strong tremors and aftershocks has left the U.S. territory reeling, there are ways to help Puerto Rico recover from recent quakes.
The U.S. Geological Survey has estimated that Tuesday's 6.4 magnitude quake alone caused more than $100 million in damage, according to CNN. But while Tuesday's quake is believed to have been one of the largest to hit Puerto Rico since 1918, the Associated Press reported that dozens of earthquakes and aftershocks have shaken the island daily since Dec. 28. Seismologists told the Associated Press that the seismic activity is due to a grinding of tectonic plates happening along three of the country's fault lines.
Unfortunately, seismologists have also told the news outlet that there's no way to predict if or when the quakes and aftershocks will stop. That means the U.S. territory could be in for a few more bumpy days as earthquake relief efforts get underway.
In the wake of recent quakes, here's how you can help relief efforts in Puerto Rico: