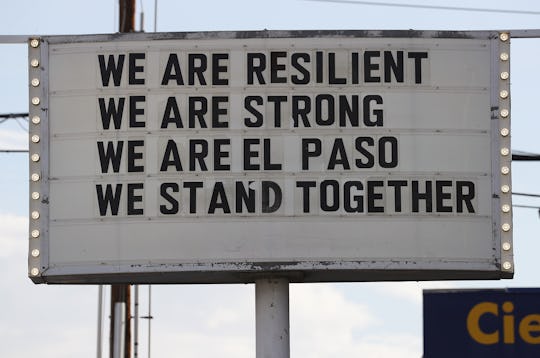 Mario Tama/Getty Images News/Getty Images
How To Help Shooting Victims & Their Families After Two Consecutive Massacres
A shooting at a Walmart in El Paso, Texas left at least 20 people dead and more than two dozen injured this Saturday. Less than 24 hours later, in Dayton, Ohio, a gunman who opened fire in a busy area left at least nine people dead and 16 injured. With two back-to-back tragedies rattling America, many are wondering how to help the shooting victims and their families.
While details are still unfolding about the two attacks, they mark 251 mass shootings in the United States in just 216 days, according to USA Today. Following the Texas shooting, the El Paso Police Department confirmed that one person was in custody and in Dayton, the shooter was killed.
After the shooting in Dayton, Ohio Gov. Mike DeWine "offered his condolences," according to the city mayor and in Texas, Gov. Greg Abott said in statement to Twitter, "The El Paso community was struck by a heinous and senseless act of violence today. Our hearts go out to the victims of this horrific shooting and to the entire community in this time of loss."
While many politicians are sending their "thoughts and prayers" to the victims and their families, others are taking action to aid those affected. And on that note, here are four ways you can help those touched by the El Paso and Dayton shootings.