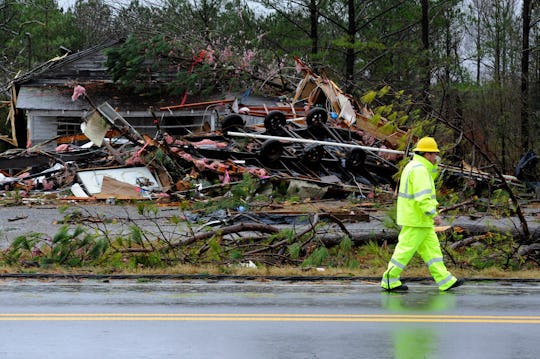 Eric Schultz/Getty Images News/Getty Images
How To Donate To Storm Victims In Georgia
Georgia is currently in a state of emergency, as declared by Gov. Nathan Deal. This past weekend, Georgia faced the wrath of multiple storms, involving several tornados which left multiple dead and scores of others devastated. But the storms are far from over and a tornado watch is still in effect going into Sunday night. For now, regardless of the weather reports, people can still help storm victims in Georgia — because once the wreckage is assessed, the victims will need as much help as they can get, and the sooner it arrives, the better.
A state of emergency was declared in Georgia on Sunday afternoon, after the death toll from the storms rose to 15 people, according to The Weather Channel. This was due to the large amount of tornadoes and severe storms that occurred in the southern portion of the state on Saturday and Sunday. According to Fox News, there are 4.8 million people who fall under a high risk for damage if more tornadoes are to occur on Sunday. By declaring the situation a state of emergency, according to ABC News, Deal has allowed for state agencies to "make all resources available" to the counties significantly affected by the storm. So what can everyone else do to help the victims in the meantime?
Right now, the Georgia Emergency Management Agency is currently assessing the damage of the storms, according to CNN. And with expected storms to happen into Sunday night, it could be a few days before the true scope and scale of the storm's damage is decided — therefore, it is hard to tell exactly what kind of resources might be necessary.
But in any state of emergency where homes have been ruined, donations — especially monetary ones — are always needed. If you're looking to donate right now, it is best to donate to local charities with chapters in southern Georgia that will put the donations to good use. Samaritan's Purse, the evangelical Christian charity over which evangelist Franklin Graham presides, helped southwest Georgia with recovery relief efforts when tornados hit the same region of Georgia earlier in the year. People looking to help fund relief efforts for this weekend's storms can donate to Samaritan's Purse this time as well.
According to the South Georgia Conference of the United Methodist Church, disaster response efforts for this weekend's storms are currently in the "search and rescue" operations phase rather than the rebuilding phase. That being said, the church too is accepting monetary donations that will be put toward current relief efforts and will take volunteers to help assist in whatever way they can.
United Way of Southwest Georgia is currently also accepting donations to help with all of January's storm relief efforts.
These are just some of the charities accepting donations to assist with relief efforts — and even more charities will likely set up donation drives once the scope of the damage from the storms is fully assessed.
The threat of severe weather might not be over — but for those looking to get a head start on helping, there are channels available through which you can do a little good.