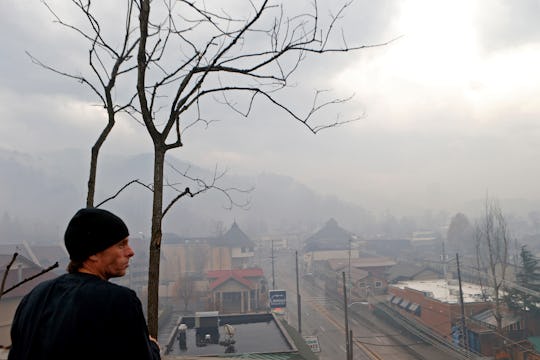 Brian Blanco/Getty Images News/Getty Images
How To Help Tennessee Wildfire Victims, Because Many Are Displaced
It's a situation that one Tennessee fire department lieutenant called "the apocalypse" — possibly the worst wildfires to hit the state in a century, according to The Washington Post. With the flames raging on even after having destroyed more than 700 homes and businesses in the major tourist towns of Gatlinburg and Pigeon Forge, displacing more than 14,000 people, and killing seven more, Tennesseans forced to abandon their homes to the inferno are now vulnerable and reliant on strangers. Many are taking refuge in safe shelters, and their plight makes it essential for those who can lend a hand to learn learn how to help the Tennessee wildfire victims. It won't bring back what they've lost, but it will show them that their country cares and make it easier for them to move forward from the ongoing catastrophe.
In Tennessee, community-based organizations are already mobilizing to bring aid to the hardest hit areas, those displaced, and those who are sometimes overlooked and exposed, like pets and first responders actively fighting to contain and extinguish the blaze. To get started by making a donation with the potential to make a big impact, donate $10 to the Red Cross simply by texting REDCROSS to 90999 or make a larger contribution on the organization's website.
Now that that's out of the way, it's time to get down to the post-Giving Tuesday nitty gritty.
As is frequently the case with large scale disaster relief efforts, money and supplies appear to be the most vital contributions to make in this case, as local NBC affiliate WBIR reported that the Red Cross now requires funds over untrained volunteers. But WBIR has those who want to help covered, with an excellent, comprehensive roundup of of ways to reach out to the displaced the the distraught, some of whom are searching for missing loved ones.
For example, a Gatlinburg Relief Fund has been established at SmartBank, so anyone can either drop off or mail a charitable donation to:
Gatlinburg Relief Fund
SmartBank
P.O. Box 1910
Pigeon Forge, TN 37868
OR call 865-453-2650 for more information.
By calling Toys for Tots at 865-254-3911, givers can sign up to help victims and their families, many of whom likely have lost their homes and, yes, most of their children's toys.
Here are some of the most important items for evacuees and first responders, according to WBIR: warm blankets, water, bottled drinks, energy bars, non-perishable food, diapers, baby and personal wipes, hygiene items (toothpaste, brushes, combs, deodorant, etc.) pet supplies, coats, gloves, and scarves. A business called Across Town Couriers is collecting those and more to distribute, and taking calls at 865-771-1604 from those wishing to donate.
To help out more generally, head to The Community Foundation of Middle Tennessee's website to contribute to a fund it set up to help affected communities and the nonprofits working to help them, according to The Tennessean. First Tennessee Bank is matching individual donations from the public to the East Tennessee Red Cross up to $50,000.
You can also help out three brothers in their twenties who are being treated after being discovered unconscious "in the midst of the wildfires," as The Tennessean reported. Branson, Jared, and Wesley Summers' parents are still missing as they fight to recover, and they could clearly use all the help they can get. To do that, visit their GoFundMe or their YouCaring.com pages.
There are many, many ways to get involved and help as the chaos of the wildfires continue and people continue to come to grips with what — and, tragically, whom — has been lost.