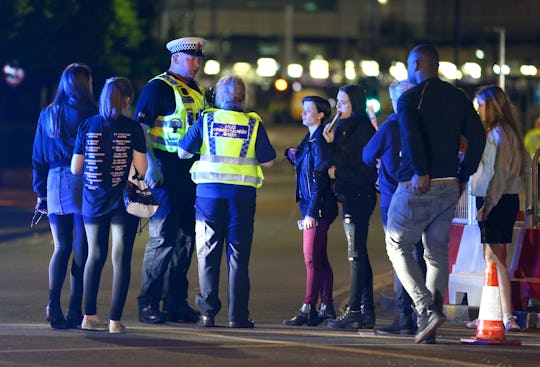 Dave Thompson/Getty Images News/Getty Images
How To Help The Ariana Grande Concert Victims
During what was supposed to be a fun Ariana Grande concert on Monday night in Manchester, two explosions resulted in the deaths of 19 people while also leaving about 50 other people injured, Manchester police told CNN. As more and more news about the tragedy unfolds, police have said that many of the concertgoers were young teens who went to the concert with friends and have since lost contact with their families. Here's how to help the Ariana Grande concert victims, because families of those affected need help and support.
UPDATE: BBC reported at 11:40 a.m. local time Tuesday that 22 people have been confirmed dead and 59 injured in the Manchester Arena explosion.
Though many eyewitnesses reported hearing two explosions, according to CNN, it appears that just one big explosion went off around 10:35 p.m. local time outside of the main entrance hall of the Manchester Arena, where the concert was being held, according to The New York Times. Police have said the case is being treated like a terrorist incident, according to the Times and CNN.
What we don't know is just how many people were in the arena or around the area where the bomb went off. Dozens of people are still being reported missing. Late into Monday evening, Twitter was filling with tweets of photos of some of the concerts attendees, whose parents could not reach them and who were mostly young teens or preteens:
Here's how to help these people, the families of those who died, and those who were wounded in the attack.
Retweet & Share Images Of The Missing
As the above photos show, dozens of people are still missing and their families have been unable to reach them. If you live in or around Manchester, you can help by clicking on the "Manchester" trend on Twitter and retweeting images of those who are still missing to help get their images and names out to those who might be able to help. Even if you don't live near Manchester, you can still help spread the word and potentially help the missing contact their families sooner.
Retweet This Phone Number
According to a number of tweets from Manchester locals, the Holiday Inn Manchester, which is nearest to the Manchester Arena, is taking in teens and kids who have been separated from their parents or friends. Retweet the number (in the tweet above) to make it more easily accessible to those who might be searching for their missing loved ones.
Retweet #RoomForManchester Tweets
Manchester locals are offering free rides and rooms for concert attendees. They are advertising help with the hashtag #RoomForManchester, according to the U.K. Metro. Retweet tweets under that hashtag to help victims who might not have anywhere to go and just need a temporary safe place to stay.
Donate Blood If You Live Anywhere Near Or Around Manchester
Donated blood can save lives in emergency rooms after attacks of this size. Search for the nearest hospital or donation center near you and donate as soon as possible. Twitter users are sharing the locations of nearby donation centers in Manchester, but it's crucial that people in surrounding cities donate as well.
Donate To GoFundMes & Local Manchester Support Organizations
To help support the families of those killed or injured in the attack, you can donate to this Just Giving crowdfunding campaign, which seeks to support families who have been affected by the tragedy.
Don't Jump To Conclusions
One of the most important ways people can help after tragedies that are tentatively being investigated as terrorist incidents is not to jump to conclusions without all the facts or before a thorough investigation has been conducted by police. Many Twitter users are already blaming the entire religion of Islam, despite the fact that police in Manchester have not confirmed that the attack was a terrorist attack, and they definitely have not confirmed that it was the result of religious extremism. Remember that entire religions do not commit terrorist attacks, and, in fact, there are more attacks by white supremacists in the United States than there are by radical Muslim extremists.
Right now Manchester needs support and compassion and there are dozens of ways that people around the world can help provide that.