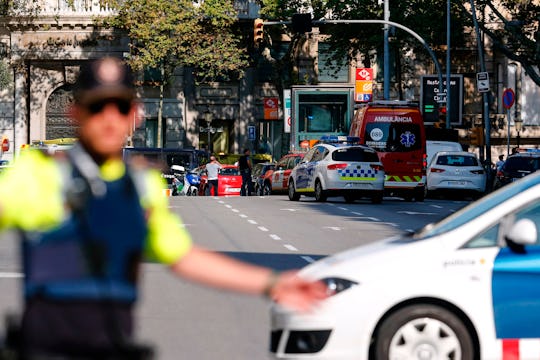 PAU BARRENA/AFP/Getty Images
How To Help The Barcelona Victims In The Aftermath Of Horrific Terror Attack
After a van plowed into a crowd of people in Barcelona on Thursday afternoon, officials have confirmed that there are "a number of deaths" and "many injuries." And in the wake of such a horrific tragedy, you may be wondering how you can help the Barcelona victims who've been affected by this incident. As more information is released in the coming hours and days about the attack, outreach organizations and concerned individuals will be more capable of providing, what will be, necessary aid.
According to CNN, a spokesperson confirmed the incident was "most likely a terror attack." Similarly, the Catalan police force tweeted that terror response protocols were in place, but officials could not confirm motive for the attack at this time.
The horrific attack took place near the tourist center Las Ramblas and police have since closed off the area to the public and advised people to stay away from the area for the time being. Anyone in or near Plaça de Catalunya has been asked to remain indoors and local emergency services have requested that metro and train stations in the area be closed down, according to Reuters. As officials search for the perpetrator of the attack, the city of Barcelona is on high alert.
The Independent reported that the driver entered a pedestrian street and drove in a zigzag pattern before crashing to a halt into a kiosk. Little is known about the driver of the van, however the El Pais newspaper reported that it was a man who fled on foot. Police are reportedly on the lookout for a man 1.70 meters tall (roughly 5 feet 6 inches), wearing a white and blue striped shirt.
Most recent reports on the attack suggest that at least 13 people are believed dead, along with as many as 32 injured. Local authorities have yet to confirm a specific number of deceased victims, but unofficial counts are rising as more information is released on the situation. Prior to the attack on Thursday, anti-tourist graffiti and protests were popping up in and around Barcelona, leading some officials to believe that the attack was specifically targeting visiting tourists.
And while more details and information regarding this horrific attack come to light, here are some ways you can lend a helping hand.
Raising Awareness, But Respect The Victims
By sharing information on the attack via social media, the public has the power to gain attention to the situation as it unfolds. Trending hashtags, such as #Barcelona, create an important dialogue in the wake of such an event.
It is necessary, however, to not share unofficial and graphic photos and videos of the victims and the aftermath. One significant way to show respect and support for those impacted by terror attacks is to refrain from exposing them in such a way.
Volunteer, Or Make A Donation
At this time, no information has been released about organizations providing aid to victims in Barcelona. Shortly after the terror attack in Nice, France last July, organizations such as the French Red Cross and the United Nations were accepting donations and volunteers.
Make A Blood Donation
As The Independent reported, hospitals in Barcelona have already called for blood donations following the attack "to avoid potential shortages." So if you're near the city, feel free to make a donation that can potentially save many lives.
Terror attacks such as this leave the global community in a state of terror and mourning. And by finding ways to help the victims of such an attack is one way to start repairing the damage done and, eventually, overcome this devastating time.