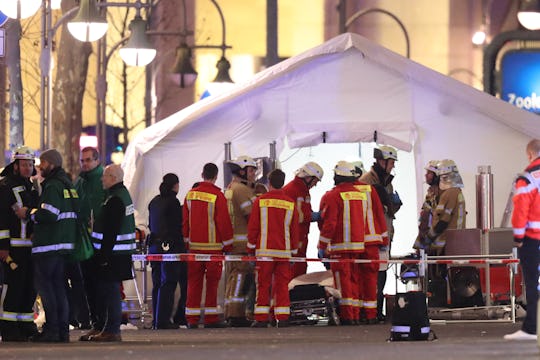 Sean Gallup/Getty Images News/Getty Images
How To Help The Berlin Truck Crash Victims, Even From Afar
The world watched helplessly on Monday evening as news broke of yet another tragedy in Europe, this time involving a truck that drove into a Christmas market in Berlin, killing 12 and injuring dozens more. Many are wondering how to help the Berlin truck crash victims, whether that means direct aid from local organizations, or charitable contributions from afar. Luckily, there are a few options.
For those who are in Berlin, a direct donation of blood through local hospitals or the German Red Cross is a fast, direct way to help the many victims still being cared for at hospitals in Germany's capitol city. According to reports at The Guardian late Monday evening, 48 victims had been taken to hospitals, some with serious injuries. Kate Connolly, the Berlin correspondent for The Guardian, has specified that "doctors treating patients across Berlin are reporting a high number of fractures and internal injuries, including internal bleeding and damaged organs, among the 48 wounded."
For the many more of us watching the tragedy unfold from across borders and oceans, it's still possible to facilitate blood donations and other medical services by making a financial contribution to the German Red Cross, or the Deutsches Rotes Kreuz in German. The organization's easily accessible website has the option of reading in English or German.
At this early juncture, it's unclear which other German or international organizations will be heavily involved with helping the victims in Berlin. Until that information becomes available, the best thing to do, for now, is to show the victims respect and privacy. For example, don't share graphic videos or photographs online. This is a direct request from the police in Berlin — as the police force posted on its Twitter account, "To protect the privacy please do not spread videos from #Breitscheidplatz." The #Breitscheidplat hashtag refers to the name of the West Berlin public square in which the Christmas market is held.
The Berlin police also Tweeted a request to "stay home and do not spread rumors." The spreading of rumors is particularly apropos in the current situation. Though German authorities and local police haven't yet established whether the crash was an attack, many media outlets and international politicians, including President-elect Donald Trump, are jumping the gun by labeling the event an act of terrorism.
In the coming days and weeks, another way to support the Berlin victims might be to attend a local vigil. As writer Joseph D. Lyons pointed out Monday evening at Bustle, the people of Berlin held a vigil outside the U.S. embassy following the terrorist attack in Orlando. It seems likely that vigils to honor and mourn the victims in Berlin will be held in many countries throughout the world, and in the U.S. as well.
Feeling sad and helpless is a perfectly understandable response to events that are outside of our control, but the good news is there are things we can all do to help.