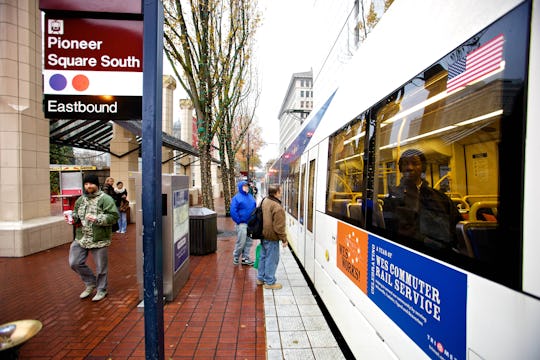 Craig Mitchelldyer/Getty Images News/Getty Images
Crowdfunding For Portland Stabbing Victims Tops $670,000
Two men are being hailed as heroes after they lost their lives on a light-rail train in Portland after they attempted to stop a fellow passenger from harassing two teenage girls with anti-Muslim hate speech. The two men were stabbed to death during their attempt to intervene. The two men were identified as 53-year-old Ricky John Best and 23-year-old Taliesin Myrddin Namkai-Meche by Portland police on Saturday. A third victim, identified as 21-year-old Micah David-Cole Fletcher, survived the brutal attack. In the wake of this horrible tragedy, many are wondering how they can help the families of the Portland stabbing victims. There are a few different ways you can lend a hand.
Friends of the victims have established fundraisers to help cover the costs incurred by the victims' families since the vicious attack. Three crowdfunding campaigns were set up in the immediate aftermath of the stabbings, each with slightly different goals. One campaign was set up by a local Good Samaritan from Portland named Nick A. Zukin, who set out to raise $300,000 for the victims' families. "Two men were killed today because they stood up for two Muslim women who were being harassed on Tri-Met by a racist. Another was injured. They are heroes, yet their families are not only going to be faced with the pain of losing people they love, but with financial hardships from their passings," Zukin wrote on his GoFundMe page. "All donations will go to the victim's families. Hopefully the goal is just a starting point. They will certainly need more than this. And no amount of money will ever lessen their heartbreak." Zukin has surpassed his goal as of Sunday night, but the page is still accepting donations.
Another campaign that aims to raise money for all three families affected by the stabbing was set up by the Muslim Education Trust in Tigard and national organization CelebrateMercy via the platform Launchgood. Their fundraiser is called "Muslims Unite for Portland Heroes," and state that they "wish to respond to hate with love, to evil with good, as our faith instructs us, and send a powerful message of compassion through action." This fundraiser aims to cover the immediate costs of the victims' families, including funeral expenses and medical bills, as well as long term expenses. "Mr. Best — one of the victims — left behind his wife and four children," states the fundraising page. "His family will definitely need significant help since all of his kids are still teenagers or younger - still needing to go through college." They've already raised more than $270,000 as of early Sunday evening.
Carlos Espinoza, a friend of the victim who survived, has established a GoFundMe to cover Fletcher's medical costs. "Our friend was stabbed and critically injured while being a good samaritan and heroically intervening during the racist terrorist incident that left 2 men dead," Espinoza wrote. "He bravely did what anyone should do when confronted with terrorism and stepped in to stop the harassment of Muslim women by a known White Supremacist." Espinoza has already raised more than his goal of $100,000 and is encouraging everybody to donate to the two other fundraisers, as well.
These three campaigns have already raised over $670,000 to help the families of the Portland stabbing victims. While no amount of money can ever come close to replacing what was lost or healing the pain that comes with such senseless tragedy, it's encouraging to see that there is still so much good in the world.
So many people who have never even met the two men who lost their lives are reaching out to help their families' in their time of need. If you would like to do the same, you can donate to any or all of these fundraising efforts. Our thoughts are with everybody affected.