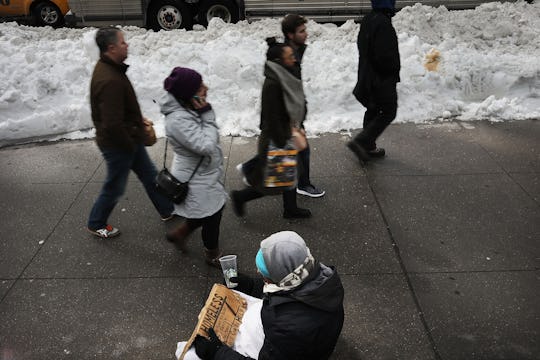 Spencer Platt/Getty Images News/Getty Images
Here's How You Can Help The Homeless During These Brutally Cold Days Ahead
Just in case you haven't been outside recently or spent the holiday break lounging on a tropical island, I have bad news for you: It's actually freezing outside and it's not getting any better, anytime soon. For most of us, that just means turning on the heat and bundling up in extra cozy pajamas at night and complaining about it on Twitter. But others aren't as fortunate, which is why you and your family might want to know how to help the homeless in this dangerously cold weather.
Because it is dangerous. Most major cities and towns affected by the freezing temps are in emergency mode, which means that shelters and police stations are working overtime to get people in off the streets, even if it means overflow in facilities. In Indianapolis, for example, a shelter that has 290 permanent beds actually slept over 400 people this week, according to local Fox News affiliate FOX 58. In Boston, New York City and Seattle, for example, city-sponsored outreach teams are braving the cold to identify homeless people and encourage them to seek shelter. In Houston, according to Click2Houston, two homeless people reportedly froze to death.
When I say dangerously cold, it's literally dangerous. Over New Year's Eve, 90 percent of the United States didn't even get up to 32 degrees. "You know it's bad when even Dallas can't get above freezing. In fact in all 50 states — including Hawaii — at least one place recorded a temperature below 32 degrees on Tuesday, CNN meteorologist Ivan Cabrera reported.
Given how dire the conditions are for many without a home, here are a few ways you can help them through this tough time.
Ask Them If They're OK
According to the New York City Coalition for the Homeless, unless you feel really unsafe doing so, you can approach the person and ask them if they're alright and have some place to go. Ask if they need anything that you can provide if you're up to it.
You can remind them that there are shelters they can go to and resources to access. Every city will have different procedures and places to recommend, so do a quick Google search and see what your town is doing. During this kind of extreme weather, the city or town homepage and social media account will likely already have something posted.
Use Your Phone
If the person looks like they need medical attention, call 911 immediately and let them know. If they don't need medical attention, don't call 911. Instead, call your city's service hotline to come out and help. About 60 cities have 311 numbers that can connect you to homeless outreach teams to report a person that needs help on the street. Others have city specific hotlines to call — you can find them here. Call your local police precinct when in doubt.
Donate Or Volunteer
If you don't know where to start, calling a local homeless shelter or food bank (or any organization that does homeless outreach on the regular) to see what they need is a good first step. You might be able to drop off warm socks, coats, or specific foods and supplies that they need.
Always make sure you call first, since what the organization actually needs might be different from what you assume and you don't want to leave them with canned goods or personal hygiene supplies they can't use.
Share These Resources
It might seem silly to post on social media about how your neighbors can help homeless people, but it's likely a ton of your friends just don't know what to do. A lot of people don't know that talking to a homeless person or calling a 311-type hotline to get a skilled outreach team to help inform them of warming centers or shelters is something you can do and could help save lives. Thoughts and prayers are nice, but action is actually useful.
The cold's going to be sticking around, so if you and your friends are cleaning your closets in the name of the New Year, you can also gather old coats and blankets to make your donation all the more bountiful.
According to ABC News, a "bomb cyclone," or a winter hurricane is expected to hit the East coast on Wednesday and affect the region through the weekend. The "monster storm" will first hit coastal cities from Maine all the way down to Georgia, according to The Washington Post, then more winds and snow will follow into Thursday and Friday. Temperatures are expected to reach -20 in some mid-Atlantic states, according to TIME. And that's even before the snow and winds hit leading up to the weekend.
So yes, it's dangerously cold out there and anything you can do to help someone less fortunate than you stay warm and stay safe is energy well spent.
Check out Romper's new video series, Romper's Doula Diaries:
Watch full episodes of Romper's Doula Diaries on Facebook Watch.